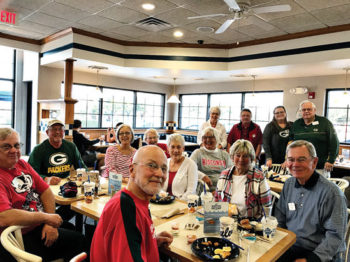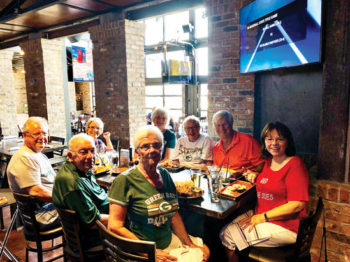 The Wisconsin Club has about 120 members here at Robson Ranch. We try to get together for some fun activities. This year we enjoyed fresh walleye at our favorite Wisconsin-based restaurant, Culvers, in Flower Mound. It's a well-kept secret and we're not telling. The second outing was at the new Lambeau's America in Highland Village. This restaurant owner has built a tribute to our own Curly Lambeau, complete with cheese curds!
We are planning a summer Happy Hour at the Grill on Friday, August 23 from 5:00-7:00 p.m. Later in the fall we will get together for a Packer game. The Teste di Formaggio (cheese heads) Bocce team plays on Wednesday at 4:00 p.m.
The group is open to all Wisconsin natives, alumni, family or maybe you just have some friends up there and enjoy our culture. Contact Mary Fabian to get your name on our mailing list maryfabian@sbcglobal.net.