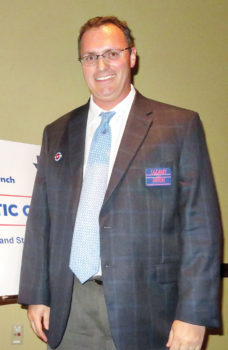 Vicki Baker
Often referred to as "The People's Court", the Justice of the Peace is the legal jurisdiction closest to the average citizen. Required by the Texas Constitution, these lower courts have jurisdiction over minor criminal offenses and minor civil cases. Among their duties, the justices handle traffic tickets, small claims civil litigation, landlord or tenant matters, enforcement of liens on personal property, driver's license hearings, administer oaths and perform marriages. So, why is this important? Because one day you, a family member or a friend may find yourselves needing the services of these courts.
Michael Callaway, Democratic candidate for Justice of the Peace, Precinct 4, addressed the Democratic Club RR during its September meeting. He outlined his credentials and qualifications for the position and answered audience questions.
The RR Democratic Club presents a variety of speakers, including community leaders and political candidates, to better inform and educate us as citizens on issues affecting our community, state and country. Come join us on the fourth Thursday of each month at 7:00 p.m. in the Clubhouse.