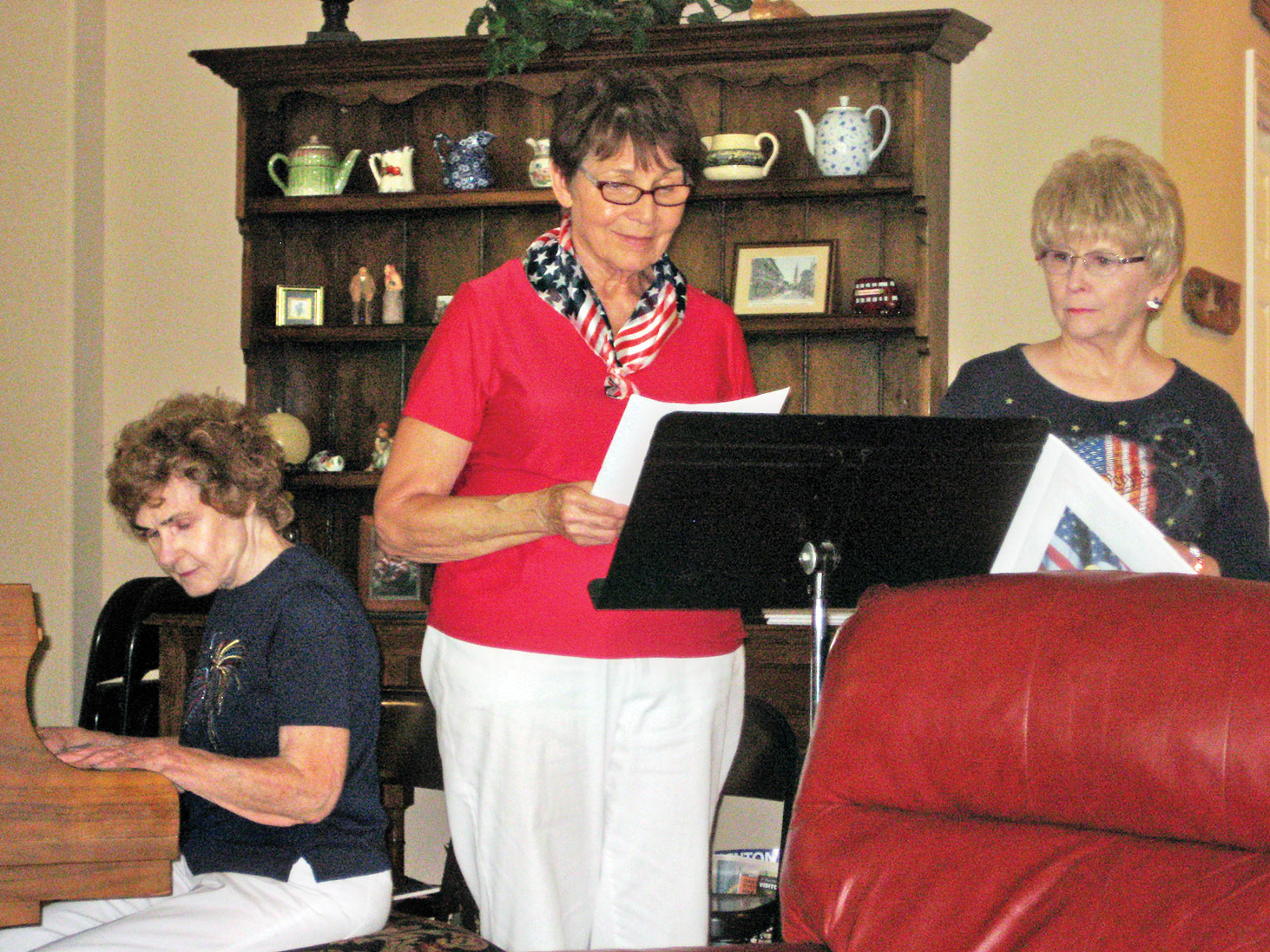 Sherry Zeise
How could you not feel patriotic at Robson Ranch in July! Twenty-five eager New Life Church Lunch Bunch patriots were warmly welcomed to the lovely home of Phil and Martha Crump on Saturday, July 9. Red, white and blue stars, flags, stripes and all combinations of those decorated outfits and tables.
On the baby grand piano, a wonderful piece embroidered by Jois Ross called "Purple Mountain Majesty" greeted attendees, adding more pride-in-country to the patriotic atmosphere. It displayed a background of the American flag, as a bald eagle soars across it above a craggy mountain range. Many ladies sat nearby to drink-in the beauty and meaning of the piece.
New Life Church Lunch Bunch always has an amazing program, which uniquely brings the message to heart. This July program truly touched us, bringing tears of pride and concern for our beloved land to the eyes of many.
After a scrumptious lunch and great desserts, Jois Ross and Peggy Zilinsky began their stirring program, "This is My Country." They deftly wove stories of our precious, popular patriotic songs, and then we heartily sang them together. Marguerite Richardson's beautiful playing stirred us all as we sang, led by Sherry Zeise.
Special music presented by Marguerite Richardson, Pat File and Sherry Zeise shared a meaningful song by the country-western legends Diamond Rio titled In God We Still Trust. The song encouraged each of us to stay true to our faith in God and to stand strong for our freedom to worship and to acknowledge God as the One who has blessed us with this glorious country and all that we hold dear. Marguerite and Pat led the song off with a rousing reading of the verse explaining how our Founders gave God, our Creator, credit for establishing our nation and making us the people and place we are today. Pat and Sherry noticed many hearts stirred to tears as they sang.
In another part of the program the wonderfully powerful Irving Berlin song God Bless America introduced in the 40s by the awesome radio star Kate Smith touched hearts as Sherry Zeise sang it. Many in the group joined their voices with her to plead, "God bless America, my home sweet home."
The program closed with the affirmation by Jois, then Peggy, then each of us, "This is MY Country."