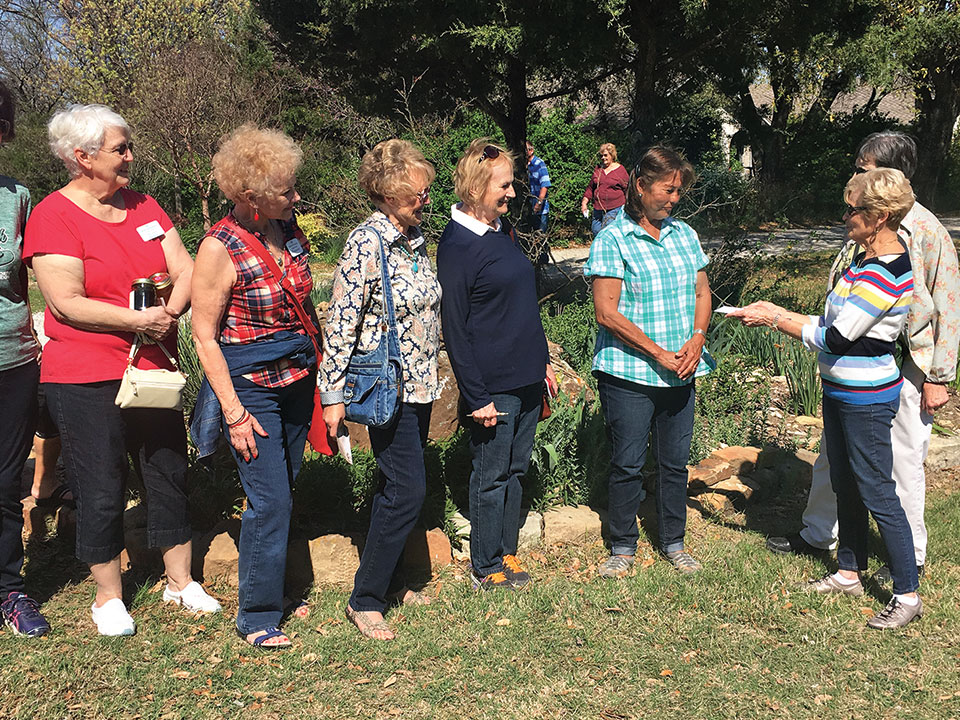 Barbara Anderson
June and Bill Marquis have a large, beautiful and very unique property in Ponder, and they graciously opened their place to the Robson Ranch Garden Club on Monday, March 20. June is an incredible gardener and Bill is, well, a "collector" of almost anything; and between June's eye for plants (mostly native) and Bill's vast variety of "treasures," their yard is a delight although not something that our HOA would approve! From millions of years old snail fossils (very large shells) to old workshop and farming tools, these items have been incorporated into retaining walls, gardens, fences and an incredible stone gateway to the property. Even restored old buildings from long-gone towns nearby and old tractors not to mention the bee hives from which Bill gathers delicious honey are on site. We were amazed and could only imagine the years and amount of work that is constantly required to maintain the place let alone add more, which is what the Marquises look to do. What a treasure!
Most Garden Club meetings take place here at the Ranch in The Lone Star Room of the Clubhouse. We meet at 10:30 a.m. on the third Monday of the month, except for June, July and August. Yearly dues are $10 per household, which helps with honoraria for our speakers or other expenses as the Board deems appropriate.
The April 17 meeting will be one you will want to attend, member or not. We will be learning about herbs, how to grow them, what grows well here, and how to use them; think fresh basil with tomatoes and fresh mozzarella in a Caprese Salad – yummy! All Robson residents are welcome to be with us. We hope to see you there!
If you have questions please call Barbara Anderson at 940-239-6504 or email at [email protected]