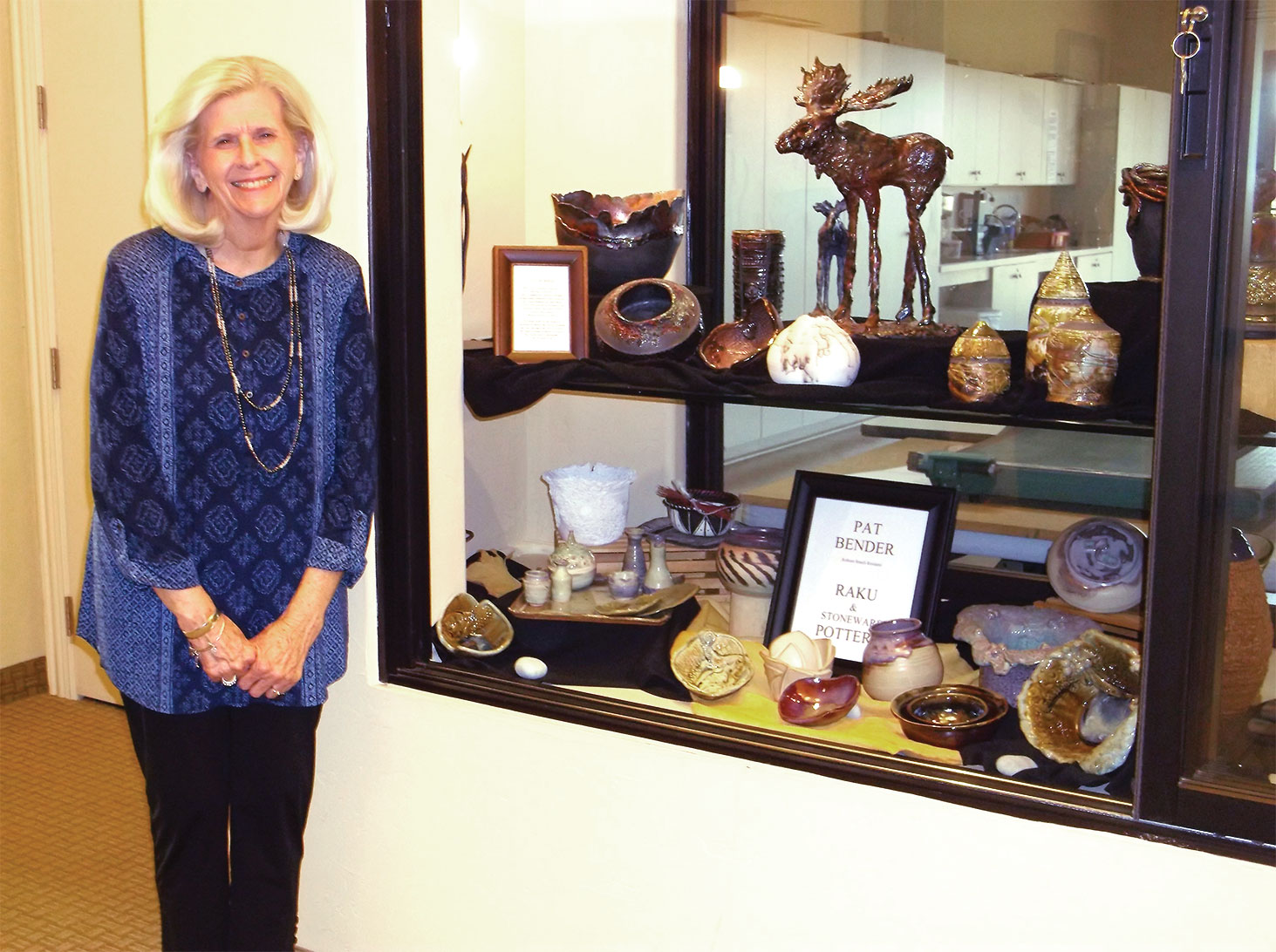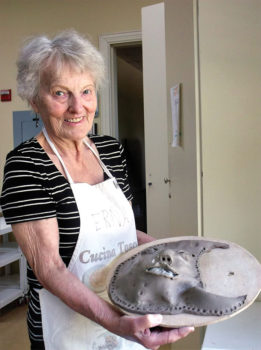 Carolyn Detjen
Clay, purified of rocks and organic matter, listened to the artisan spirit and became differing sights to behold. Each of the potters watched as birth came to life. Sarah Cunningham spoke of the experience as astonishing; never before had she watched as eyes looked back into hers and ears appeared beautifully. A nose, formed in her hands, took its place above lips that she pulled from within a slit just above the chin. The moon had become a mask. Sarah had never been drawn to masks and now she was aware. The mask called her to attention.
Erna Seale was excited and apprehensive. Erna wondered, "Would my mask be a monster or a creation of loveliness?" Actually, beauty is in the eyes of the beholder. Erna's moon is beautifully scary! A soon to be project for Erna will be created for her patio. She is intrigued with sun and moon dials and will be making what the class has taught for her relaxation outside.
Robson Ranch Happy Potters have looked back into history and into the Earth's atmosphere and sculpturally presented to us gifts for our visual appetite, beautifully glazed and fired. Watch our CATC windows for a never to forget display.
Happy Potters struck it rich when Pat Bender decided to move to Robson Ranch from Colorado. She wheel-throws and hand-builds, using texture as a common ingredient. A beloved ingredient! "The Texture Lady," using her interior design background to influence her creativity and visual balance, mixes Raku clay with wild design, bringing sparkle and shine, metallic and matte astounding our senses to the point that we must have a Raku experience! Moose are a familiar sight in Colorado, but we enjoy two of these fellas and you can too. Hike up to the CATC gallery of windows where Pat gives you the thrill of a lifetime in stoneware clay. She is sharing two of her treasures with us. Pat is an excellent teacher for those wanting to learn how to enjoy life. Free yourself from tension. Be carefree with beauty from within. These are the years to sit back and enjoy new adventures. I have never made a moose but Pat Bender has stirred up my senses and now is the time.