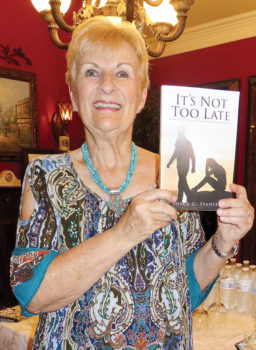 Nancy Toppan
Broken relationships are everywhere. If you're not in one, you certainly know someone who is. Most people don't know where their relationship problems started, let alone how to fix them. It's Not Too Late provides biblical answers, but it does so through story—-the story of relationships that die and are later restored.
Joyce Stanley debuted this new book, It's Not Too Late, at a book launch at the home of Eddie and Kathy Heberlein. Specialty wines and sweets were served as we intently listened to excerpts from Joyce's work.
Joyce spoke about her long career as a Christian counselor and what prompted her to write It's Not Too Late. She said she saw many fractured relationships and helped people to experience and to offer true forgiveness. This book can appeal to men and women, as it contains stories of both.
Joyce did a reading and autographed personal copies. A blessed time was had by all!
It's Not Too Late is available at Amazon.com and BarnesandNoble.com.