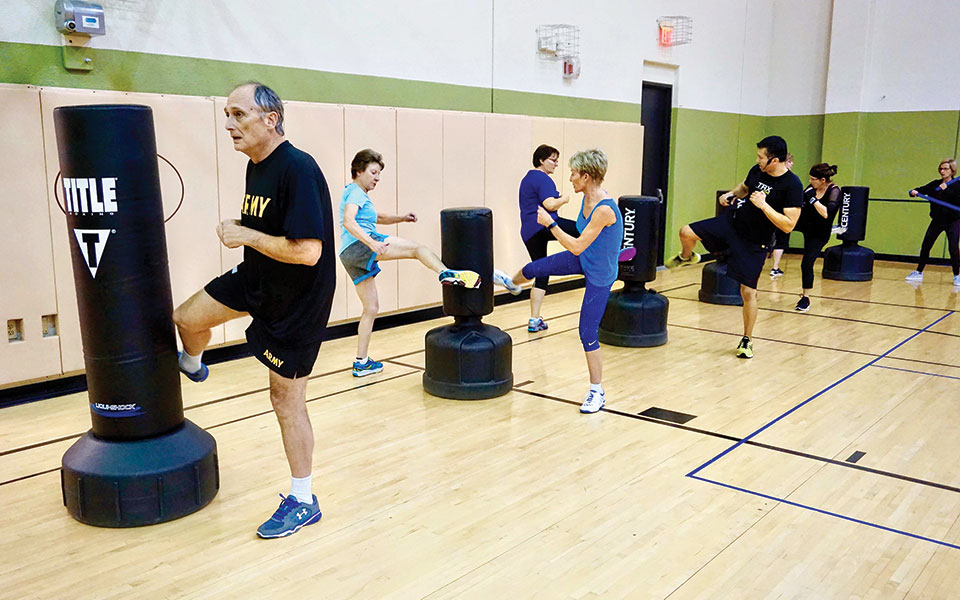 Shirley Waterhouse
Are you bored with your same old exercise routine? Tired of the same lame exercises and routine? Boredom is the number one reason people stop working out. Lucky for you Wally Sagui has started a Kickboxing 101 class that is always fun, never boring, challenging and has modification for every move. Anyone can do it no matter what your fitness level.
You actually use real boxing gloves, wraps, punching bags and a certified trainer. Not only do you punch, jab, kick, knee and strike your way through an hour, you also do cardio calisthenics, floor exercise and core strengthening exercises. We burn tons of calories, sweat like crazy and leave feeling like we have actually accomplished something toward our goal of improving our health.
Here are seven benefits to Cardio Fitness Kickboxing:
1. Burn Fat: During a one-hour workout you can expect to burn as many as 350 to 450 calories.
2. Coordination: The kicking and punching moves help to improve balance, coordination and reflexes.
3. Strength Building: Kickboxing uses both upper and lower movements, which utilize your core to effective transfer power, and as a result you get stronger.
4. Cardiovascular Improvements: Kickboxing raises your heart rate by using "interval" training, and as a result you become more conditioned.
5. Self Defense: Kicking and punching are valuable self-defense skills and moves.
6. Stress Reduction: Punching a bag can be a very effective way of relieving stress or just having fun.
7. Fun, Fun, Fun!
For more information please contact our fitness leader himself, Wally Sagui, and he will give you all the information you need to start down your road to better health.
Wally Sagui, completefm.abmp.com, 940-465-1008
2nd Degree Brown Belt Japanese Karate
Philippine Katipunan/Kali Arts 1
Licensed Massage Therapist
NASM – Certified Personal Trainer
The Cooper Institute – Biomechanics
The Cooper Institute – Corrective Exercises for Injury Prevention
TRX Qualified Level 1
Rock Steady Boxing for Parkinson's – Certified Coach
"Helping you achieve your health and wellness goals"