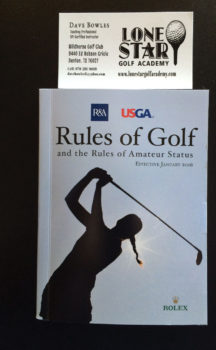 John Burkholder, MGA9 Publicity
As I explained in my February Pioneer Press MGA9 article, I started playing golf only after moving to Robson Ranch Denton in July 2014. Actually three months later as it took a while to get settled in our new Ranch home on the third tee of the beautiful Wildhorse course.
To get started correctly, the first thing I did was get with the great golf professionals at the Lonestar Golf Academy to take some lessons. Dave Bowles and I hit it off immediately, and after a series of beginner lessons I've been almost on my own. I say almost because as you undoubtedly know Dave spends virtually all of his time at the course driving range giving lessons, some to beginners like me and others to experienced golfers looking to improve their game or correct some technical swing or game issue.
Anyway, since I'm a beginner I spend a good amount of time on the range myself. The great part about that is that Dave Bowles always takes the time to watch me hit some balls paying attention to my swing and its results. He'll eventually casually walk over and offer a tip that addresses a specific aspect of my setup, swing or follow-through. Without Dave's continuing tips my game would be in the perpetual beginner stage (which many think it still is!) not showing any real progress. Thanks to Dave and the great RR MGA9 golfers I play with, I truly believe that I'm making progress to reduce the times I make a complete fool of myself on the course! That and enjoy the game to its fullest.
And a big part of becoming a real golfer is knowing, understanding and adhering to the Rules of Golf. During my first year learning the game all the guys I had the pleasure of playing/riding with helped me learn, understand and abide by the sometimes complicated rules of play that make the game so technical yet enjoyable. Those rules and good golf etiquette were impressed upon me in very friendly and helpful golf round banter, always making each round a learning experience. For example, one of my regular golfing partners explained to me that it's best practice to drive your cart past the green and park closest to the next tee before getting out to putt and finish a hole. As he explained, this speeds up game play and shows respect for the game and its many best play practices.
So to speed along my learning and understanding of golf's rules and etiquette, this year I joined the USGA and received my official copy of the R&A/USGA Rules of Golf, January 2016, 33 Edition. I've now read golf's rules and feel better prepared to advance my game and enjoy it with the terrific members of RR Denton MGA9! On to the first tee!