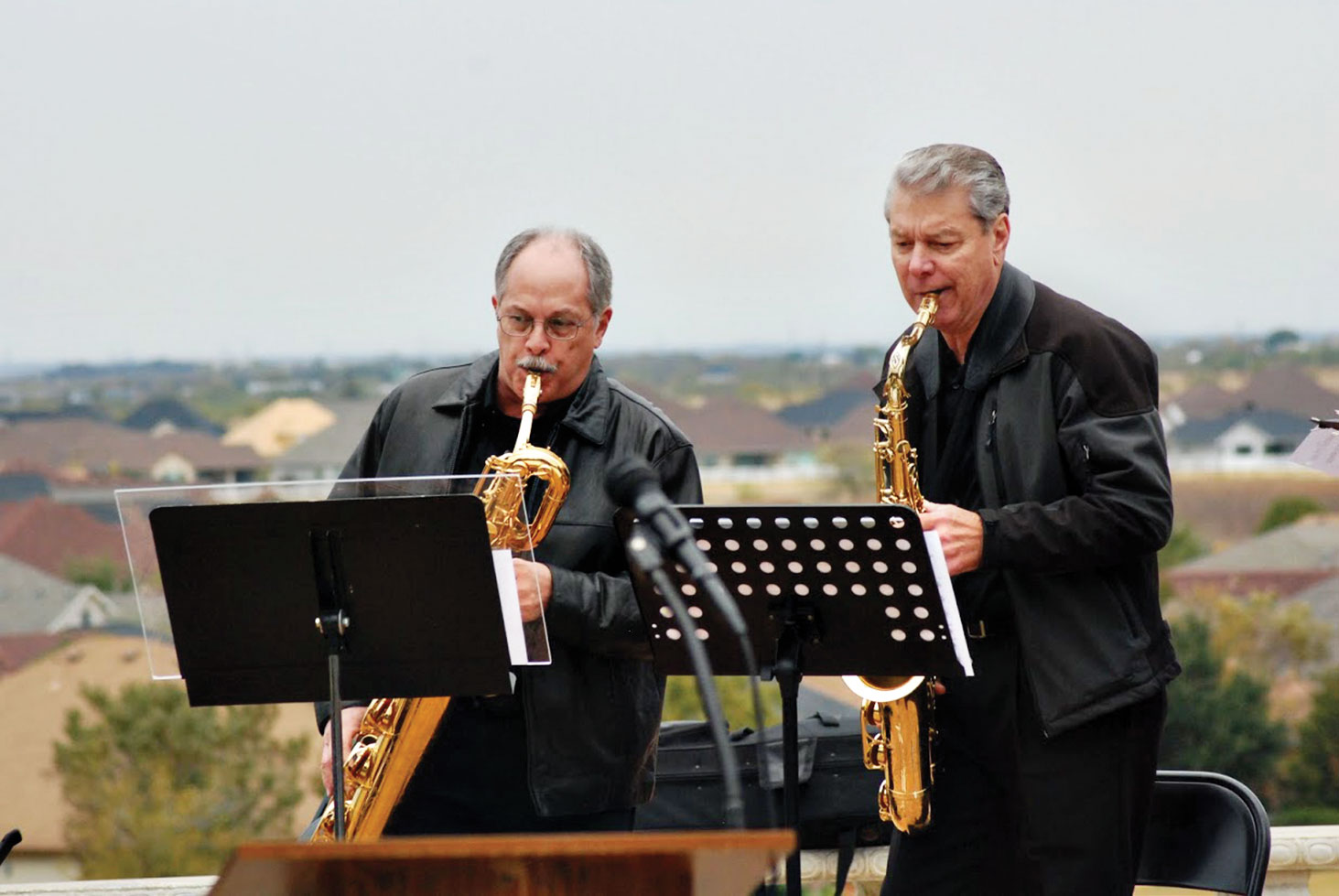 Bruce Chidester
Director and musical arranger of the Robson Chamber Ensemble, Professor Bruce Chidester, has been very impressed with the growth of this new instrumental ensemble at the Denton Ranch. What originally began as a duet has quickly grown to a very talented instrumental ensemble of more than nine regular members and is growing each week with new musicians.
Professor Chidester (Emeritus Professor, University of Northern Iowa) has been holding rehearsals every Sunday evening from 8:00 to 9:00 p.m. in the Robson Ranch Clubhouse, and as the word continues to spread, new members are added to each arrangement. Prof. Chidester, who studied advanced arranging many years ago at what was then North Texas State, is constantly being challenged to work with sometimes unusual instrumentation as new residents from the Ranch join the ensemble. "From a composer's/arranger's standpoint, these constant additions keep me challenged, and the addition of a new instrument to our ensemble gives me one more texture or color to work with. It's much like a painter being limited to only two colors, and as new colors are added to the artist's pallet new and fresh possibilities introduce themselves to the painter, or in our case the arranger. As each new member and instrument is added many new and exciting possibilities are available to the composer.
On November 11 the Robson Chamber Ensemble performed a prelude concert before the annual Veterans Day Celebration at the Robson Ranch. With well over one-hundred residents in the audience, the Robson Chamber Ensemble began its program with the very famous fanfare Also Sprach Zarathustra, op.30 followed by a sedate arrangement of Battle Hymn of the Republic. Next came a rousing version of Stars and Stripes Forever followed by a rocking arrangement of Walk Right In, Sit Right Down, Baby Let Your Hair Hang Down, which was a request from a veteran in the audience.
The ensembles vocalist, Ms. Carol Heine, led the audience in a special arrangement of the Star Spangled Banner.
When asked about the future of the new instrumental ensemble, Prof. Chidester just shook his head up and down and broke into a large smile. "The future of this talented ensemble looks very promising, and to be a part of this movement is very exciting." Prof. Chidester added, "I look forward to every rehearsal and the improvement in this ensemble of fellow musicians is outstanding."
Be sure to check out the Robson Chamber Ensemble's Facebook page for more information on their activities and performances as well as recent arrangements added to their ever-increasing library of arrangements.
https://www.facebook.com/search/top/?q=robson%20Chamber%20Ensemble.
If you are interested in brushing the dust off your old clarinet or trombone, contact Prof. Chidester because he says he has a chair waiting for you.  brucechidester@hotmail.com.