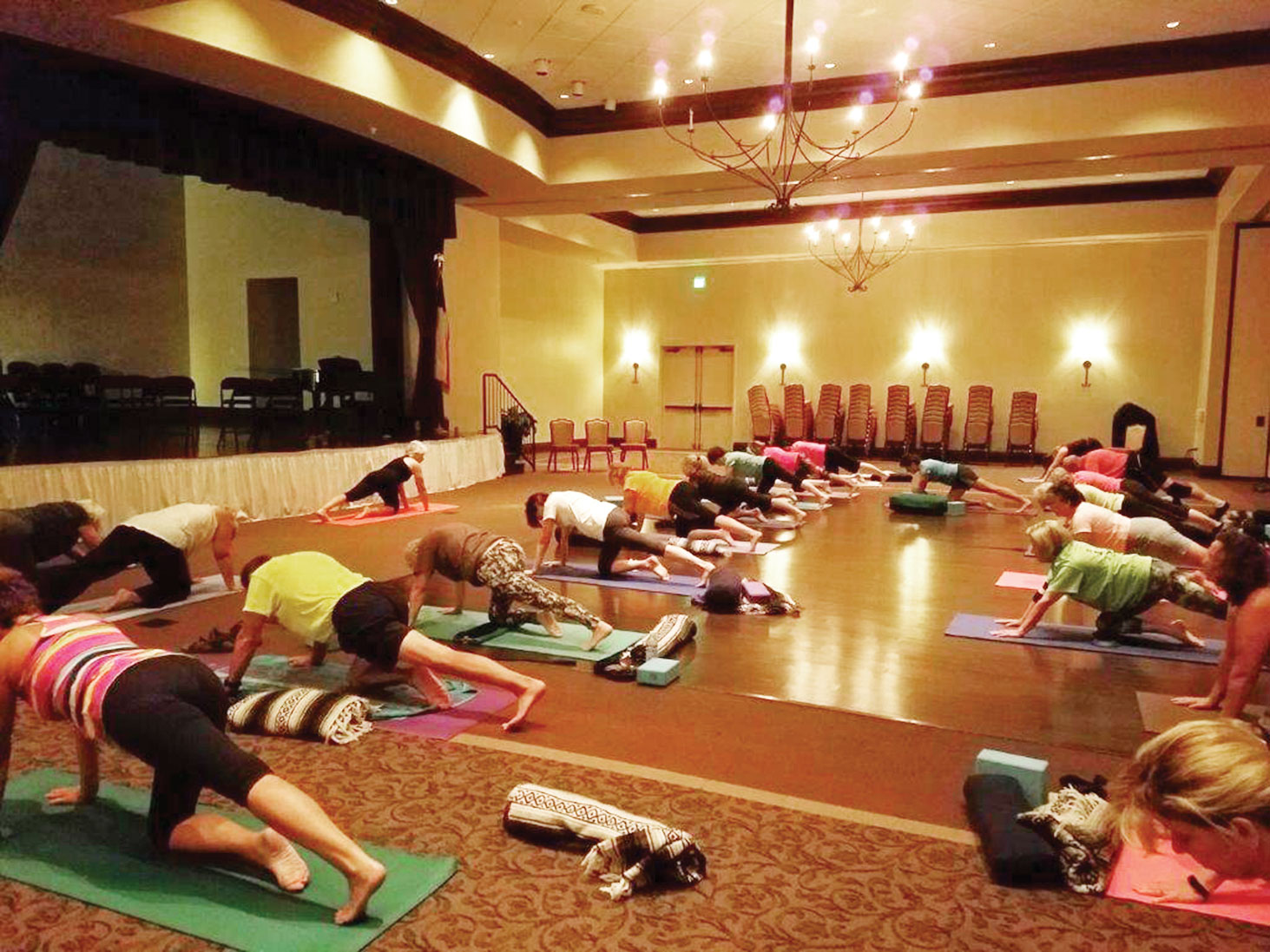 September is National Yoga Month. To celebrate, Robson Ranch residents kicked it off with high attendance at the Free Day of Yoga, which is held annually on Labor Day.
This event got its start when, during the first week of November in 2008 with the help of the Living Well Committee, Karen McDaniels held the first free yoga class in the Heritage Room of the Clubhouse. McDaniels served as the primary yoga instructor at Robson Ranch from the first free day until her retirement in 2014.
Karen's vision for growing the yoga program was to introduce different types of Hatha and Kundalini styles. She also realized that there were residents who wanted to take yoga but were not mobile enough for traditional yoga poses and therefore developed chair yoga and yoga as therapy. These focused on simple movements, stress reduction by breathing and learning to quiet the mind.
Susan Engstrom joined McDaniels in 2012, and she embraces McDaniels' vision as the primary instructor for the program. Engstrom teaches four different styles of yoga: Hatha, Vinyasa, Yin and Yin/Yang. Along with these styles she continues to offer chair yoga and a class that focuses on healthy aging.
Engstrom continues to host and teach the Free Day of Yoga here at Robson Ranch. Engstrom says, "I have been involved as a teacher in the Free Day of Yoga for the past five years. It is really humbling to see a large gathering each year. I am so grateful for those who have made yoga a part of their lives."
This year Brandy Wismer joined Engstrom as co-host for the Free Day of Yoga. Wismer says, "It was a great day for everyone who participated! I loved seeing people who had never tried yoga on the mat right next to people who had been doing yoga for years." Wismer has been a yoga instructor for over a year. She teaches three slow-flow classes, focusing on sports injury. Wismer is a proponent for overall health and wellness.
Tracy Olson has helped as an instructor from 2012–2013. She has always been on hand to help with the event, and we hope to have her back as an instructor in 2017. Olson is a substitute instructor for the program.
Eight years ago the first Free Day of Yoga was successful, and it continues to grow each year. This year 41 students participated in the event.
"I am really happy that so many residents are now bringing yoga into their lives," says McDaniels.
Yoga is for everyone. No matter one's age, health or activity status, yoga can improve one's quality of life. Whether one is a daily practitioner or just curious, Robson Ranch has several classes available to meet everyone's needs. For more information please contact one of our superb instructors.
Instructor contact information: Susan Engstrom: 940-262-0378 or susan@yoga-yatra.com.
Brandy Wismer: 940-231-0387 or brandywismer@gmail.com.