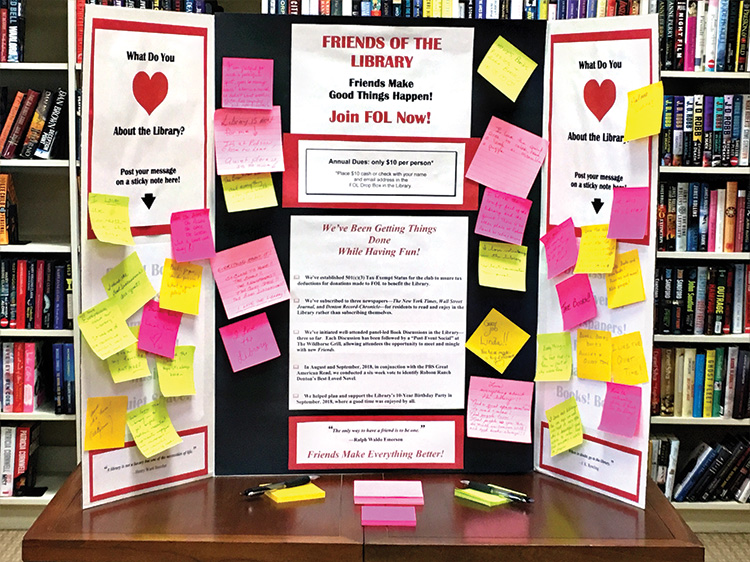 Did you happen to read the "graffiti"-filled poster in the library during the month of June? As part of their membership drive, the Friends of the Library (FOL) put up a poster with details about their advocacy for the library and asked patrons to post a sticky note with their own thoughts on what they love about the library. There were so many heartfelt comments that we thought we'd share some here:
"We love the library – a light, bright, restful respite! Up-to-date magazines and newspapers – and wonderful selection of books."
"We need this library! Hope it's always here."
"Books, papers and puzzles! What a great place!"
"I think the book discussions are great!"
"Good selections from my favorite authors."
"I am grateful for such a peaceful spot, open so many hours! When we moved, we didn't want another office – these computers are appreciated!"
"The beautiful room! And everything else you would want is here!"
"Movies, books, puzzles and audio books."
"I love the quiet area to relax, read a book or assemble a puzzle."
"I love volunteering in the library. Up-beat conversations. Nice people."
"We need this library!"
"Love the addition of the newspapers. Appreciated the puzzles and games. If only I could beat my grandson at Chinese checkers. Quiet and relaxing."
"The quiet time is wonderful – with nothing to do but read!"
"The books!"
"Books, books and more books! Puzzles and more! Nice people!"
"Everything – the fact that it's here is part of why we're here!"
"Books, books, books. Puzzles and quiet time."
"I like the quiet time!"
"Love the interesting folks I meet in the library!"
"I love our library – as we age we will use/need it more often. It's a beautiful, quiet space to relax–read–use computers and work on puzzles."
"Everything about it! So close to home! The books!! The newspapers!! The quiet space!! The book discussions! I love the library!"
"'Beach books and local news! Yah!"
"I love the comfy feel of the library and the quiet! There is no other place at Robson Ranch so calm and serene."
"And it's here! (at Robson)"
These comments are from the first week the poster was on display. Positive notes continued to be added throughout the month. It was heartwarming for the dedicated library board members and volunteers to read the notes. The FOL thanks all the library patrons who added "graffiti" while the poster was on display.
As the comments indicate, the Robson Ranch library is a special place to many of our residents. Some drop in briefly and check out a book, some stop in to try to complete a jigsaw puzzle (or just add a few pieces and be on their way), many spend time reading our daily newspapers, others bring their work, and the computers and serenity are a draw too. The library offers different things to different people, but it's a vital part of the community to many!