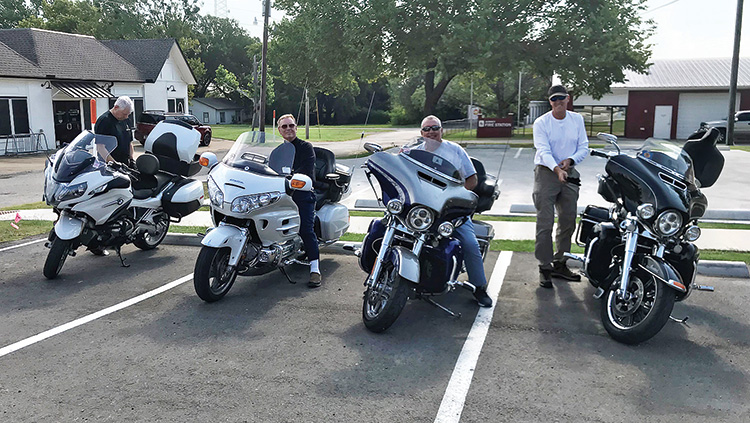 Stan Brein
The club enjoyed a breakfast ride on July 14 to the Upper Park Café in Aubrey. We had four riders and two folks in the chase car. Steve Wiley was the road captain and did a great job for his first time in that position. Steve Haugen was his sweep and as always kept us safe. The other riders were Reggie Rother and Mike Conley. There were three no-shows who missed the great ride in somewhat cooler weather under the overcast skies. The Upper Park is a club favorite that always offers the best combination of a scenic ride and a great meal. We left at 8:30 a.m. and made it back home around 11:30 a.m. before the heat ramped up.
We, as did all the other clubs, missed participating in the Independence Day Parade. Maybe something can be arranged in the fall. I know there were some other individual short rides, but our combined motorcycle fuel expenditures for July were very low. We promise to try to do better next month. Looking forward, the September Branson/Ozarks Ride has been canceled, and we are hopeful that the re-scheduled Granbury Ride in October will take place.
Our quarterly club meeting is still scheduled at this point for Thursday, August 27, at 6:30 p.m. We will have limited attendance in a large room. Attendees are asked to wear a mask or a motorcycle helmet with a face shield.
Be safe. Be well.
See you on the road!
Beware of cagers and keep the rubber side down.