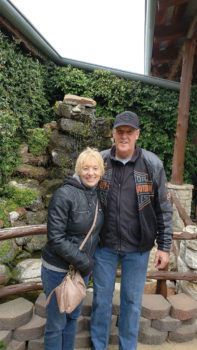 Stan Brein
It is so wonderful that the warm weather is finally here, for many reasons. It seemed for a time that we would never be rid of winter. Maybe the intent was to make us appreciate the great climate we have for most of the year. All of us, whether we garden, pickleball, walk or motorcycle are finally grateful to get out and play. And play we have! The Robson Riders Motorcycle Club is in full swing activity mode.
The first club dinner ride of the year was on March 29 to a favorite spot, Gogo Gumbo in Boyd. It was well attended as Marti and Mike Conley, Stan and Joyce Brein, Scott Baker, Elaine and Ed Barnett, Dee and Jim Sico, Dave and Jan Riddle, Steve Williams, Cindy and Steve Haugen and Dennis Dotson all joined the fun. I have related the interesting back-story of the restaurant previously and it is worth reading, and certainly worth the short trip to enjoy some great Cajun style seafood.
Steve and Cindy Haugen took a solo trip to the Texas Hill Country during Bluebonnet time on April 7-10, 2018. Steve provided a great narrative.
"Cindy and I had never been off the beaten path to the Texas Hill Country since moving to Texas so took the opportunity in early April to experience it on the motorcycle. Leaving that morning was a bit cool but we were dressed for it and quickly shed layers as we got south of Ft. Worth. We took our time on back roads spending our first night in Llano. That next morning, we took the short ride to Enchanted Rock Nature Area, did a short hike and then proceeded across the Hill Country on famed highway 1323, known for its wildflowers. We had lunch in Johnson City and later took a tour of the LBJ Ranch, a must see if you've not been there. We got into Fredericksburg late and spent the next day seeing its sites including the Wildseed Farm. We were both amazed at the number of vineyards off Highway 290 between Johnson City and Fredericksburg. The ride back on Sunday was a bit of challenge given the cold weather but by leaving late morning and thankfully having brought all the right clothing, the return ride was comfortable and fun. Highway 16 North and Interstate 20 didn't disappoint, abundant displays of wildflowers."
Some club members rode to breakfast at Cartwright's Ranch House on Denton Square on April 10. This spot is always a favorite of motorcyclists. Catch up with the Denton Motorcycle Club there on Sunday mornings.
The club had its first overnight trip to Turner Falls, Oklahoma on April 11-12. See Vicki Baker's article on this ride elsewhere in the Pioneer Press.
We appreciate the fact that club officers want us to be better, safer riders, so our outings will be more enjoyable. With this in mind, a May 1 meeting was scheduled for members. It featured Bluetooth Communication Training by Mike Conley and Road Captain/Sweep Training with Dennis Dotson. We appreciate these folks providing the time and energy to develop and deliver this useful information.
See you on the road!
Beware of cagers and keep the rubber side down!