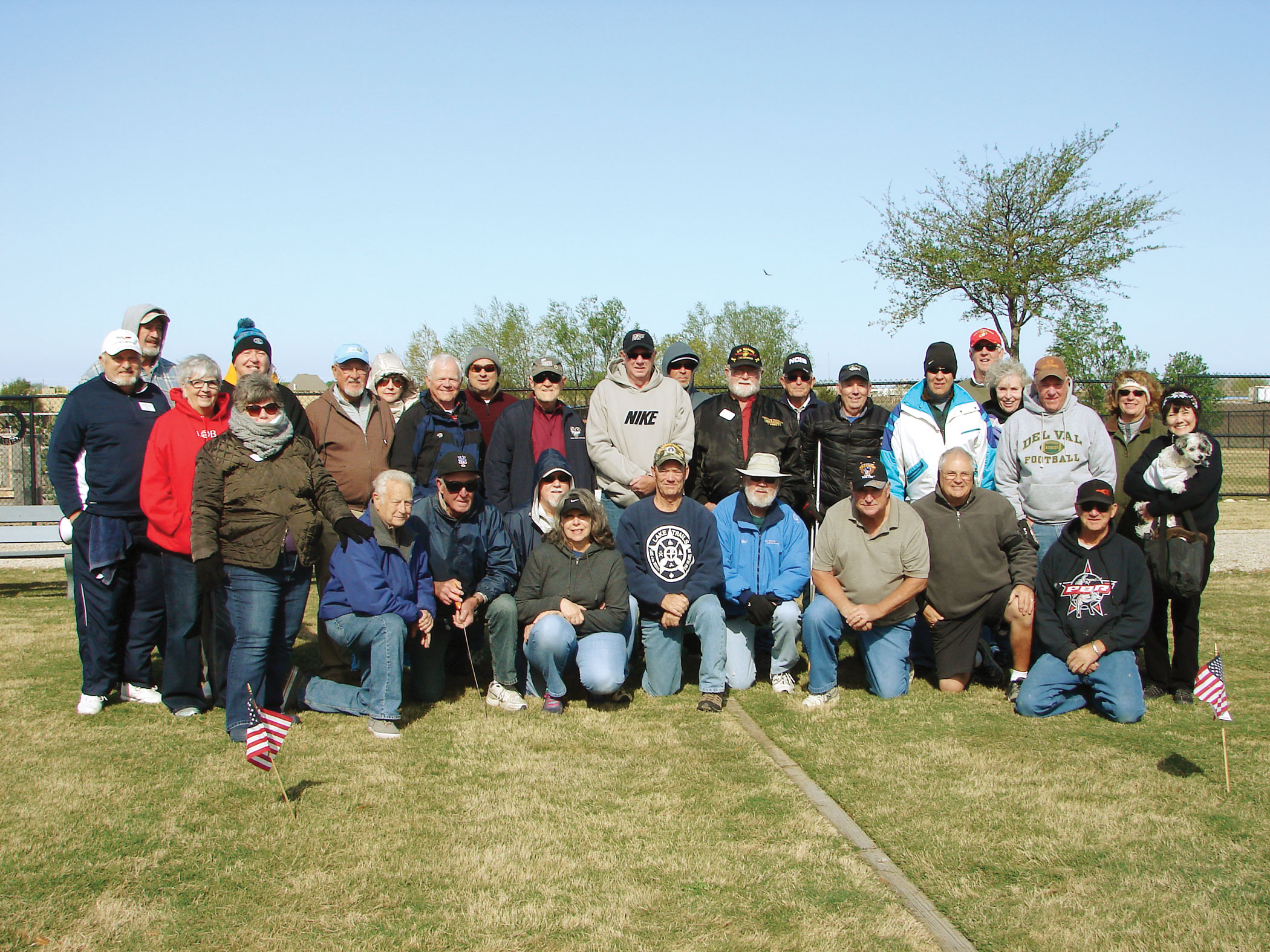 Dick Dauphinais
It was a very clear but brisk day with temps in the mid-40s and strong winds—a day for football perhaps? No way, instead we had 16 veterans and first responders battling the elements in spirited competition for the third annual horseshoe Tournament of Champions. In total nearly 40 people got involved all bundled up to keep warm and root for their favorite teams. We had judges, scorekeepers and pit-rakers all to thank to make this event successful.
Robson's General Manager, Kent Coleman, threw out the first horseshoe and immediately was requested to join several teams because without the benefit of any warm-up tosses, he threw a good point shoe! Guy Meyers from Cool Screens continues to sponsor this tournament with water and nice-looking medals for all participants. Total Wine from Denton also supported this year's event with bottles of wine for the winners of both the Championship Circle as well as the winners from the Consolation Circle.
The area surrounding the pits was all decorated with flags of all sizes and the process continues to get bigger and better every year. This year we had several new participants and new champs that battled well to win their respected brackets. Paul Dorwaldt (Air Force) and Gene Holt won the Championship Circle while Ed Krenke and Jim Bagley nailed down the Consolation Circle. Bragging rights will be maintained for a year now until next year's tournament.
Not all Robson properties have the nice horseshoe pits that we enjoy. Much appreciation goes to Kent Coleman and Bob Cook for isolating a nice area right in front of the community gardens and getting four quality sets of pits and some bench seating for viewers that we all can enjoy. The normal horseshoe group meets every Tuesday, Thursday and Saturday from 1:00-3:00 p.m. to practice, share stories and strive for those elusive ringers. You should plan to come join us sometime and maybe have as much fun as we do at these events!