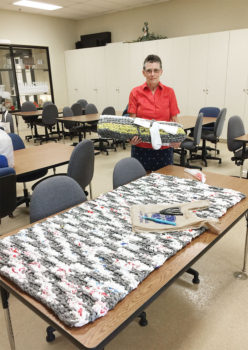 Just ask Ellen Gilgore. For the past two years she has been recycling plastic grocery bags and turning them into sleeping mats. Her bags are taken to Vision Ministries in Denton, Texas then distributed to a shelter for the homeless.
The techniques she uses were introduced to her Sunday school class at the Argyle United Methodist Church a couple of years ago. She liked the idea of recycling the plastic bags while helping the homeless at the same time.
Ellen uses crocheting designs and patterns along with colorful bags to make her mats. To date she has completed 49 mats and is working on her 50th.
These sleeping mats are lightweight, soft, easy to clean and water-proof.
Each mat measures 6 ft. x 3 ft.; uses 800-1,000 bags and takes about 50 hours to make.
Want to help Ellen with her project? Crafts, ETC. has three ways you can be part of the team to help with or even to make mats while recycling clean plastic grocery bags. It's a win-win situation.
Be a collector, folder, cutter
Collect clean plastic bags from the grocery store and like places. Keep in mind no meat bags or bags with juice or spilled food inside. The bags should be in good shape, roughly the same size and not full of holes.
Return the bags to their original shape.
Cut off the bags' handles as well as the seam, about 1 inch from the bottom. Discard those ends.
Cut the body of the bags in half (note they equal 2 loops), then stack them according to color.
Want to help further?
Be a "Plarn" maker
Link/tie the loops, three like colors at a time, to form "Plarn" (plastic yarn) and roll them into giant balls, like yarn only bigger!
Want to help further?
Be a mat maker
Put your crocheting skills to good use and crochet a mat. Here's how to crochet the rows to make a mat into a 6 ft. x 3 ft. rectangle using a size "Q" hook.
Make a chain 36 inches long, which is about 66 chains.
Make the loops loose with a little space between each one.
Make an extra loop at the end to use as your turning point.
Start at the third loop to make your second row.
Crochet from front to back so that the rows do not pucker up.
Continue until the mat is 6 feet long.
Crochet two rows of a single crochet to form a tie that is 80 inches long.
Connect the tie to the mat so that it can be rolled up, tied and carried like a sleeping bag. If you have any questions about any of these steps or would like to know where to drop-off your pre-cut bags, Plarn or mats you may contact Ellen Gilgore at [email protected]