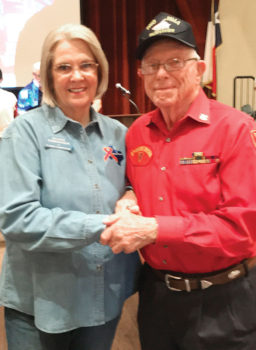 Bill Wright and Dianne Edmondson
Marine Iwo Jima survivor Don Graves was the inspiring speaker to nearly 400 Robson Ranch residents at the October 8 meeting of Support Our Troops.
Don, who joined the Marines at 17 in 1942, began sharing his Iwo Jima experiences about nine years ago at the age of 84, encouraged to speak by a P51 fighter pilot who said that Don and his fellow Marines at Iwo "saved his life" by providing a place to land his crippled plane, even as the fighting on Iwo continued.
With a good impersonation of President Roosevelt's radio broadcast on December 8, 1941, following the Japanese attack on Pearl Harbor on December 7, Don quoted many lines of that famous "date of infamy" speech verbatim from memory.
Since President Roosevelt and some top generals wanted Iwo for air strips needed in the march toward Japan, the 5th Marine Division was formed and trained in Hawaii for this mission. 145-pound Don Graves, with a seventy- pound flame thrower strapped to his back, had to be lifted up by two Marines and dropped into the landing craft from the top. Don's landing craft in the third wave onto Green Beach stopped short of the beach, bottoming out in the surf. Upon being ordered "overboard," Don tried to climb out with the flame thrower still strapped on his back, he was lifted out by two Marines once again. Reaching shore, he laid face down in the sand and prayed for the first time in his life, promising God that if He would get him through this, he would serve God the rest of his life. During the next three days of constant mortar, artillery and machine gun fire from the Japanese, Don and his fellow Marines advanced only 600 feet.
Six weeks later, Don left Iwo, having seen the U.S. flag raised on Mt. Surabachi, very close to that famous picture. When our Flag was raised, the Allied ships celebrated by firing their guns and the Japanese artillery on the island unleashed a barrage in a desperate attempt to remove the U.S. flag from Japanese soil. As Don finally left the island, he saw a sign on the fence around the fresh cemetery for 7000 Marines, "We did our best today so that they can have many more tomorrows."
At home in Detroit, Don suffered emotionally, drinking heavily and endangering his marriage. Accompanying a friend to a Billy Graham crusade, Don knew the message was meant for him. He accepted Christ, turning his life around. He remembered his promise to serve God, studied theology, became a pastor and reorganized many failing churches. His presentation ended with him leading all of us in singing God Bless America. Don's was the loudest voice.