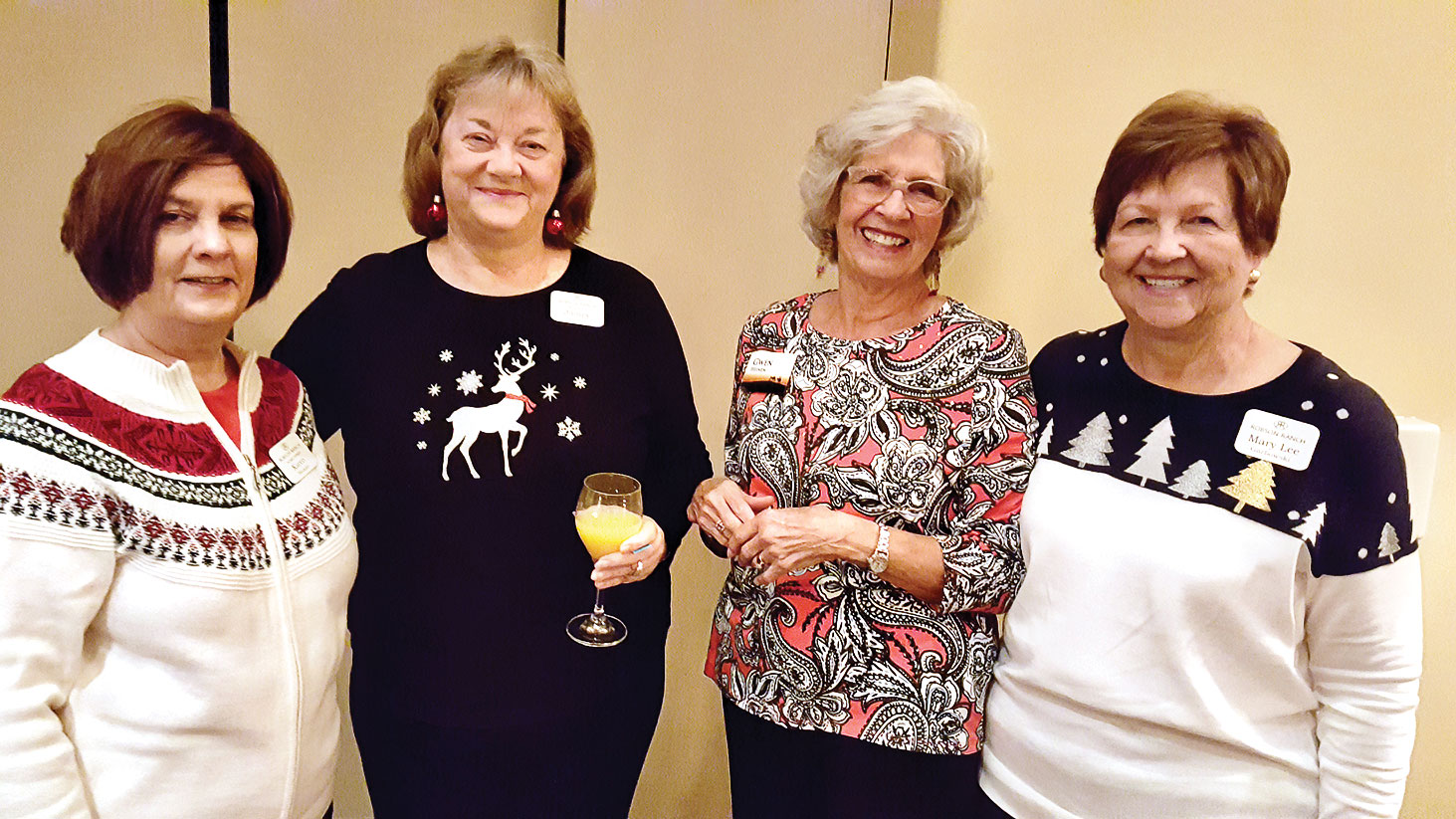 The room reflected the smiling faces of The Lady Niners seated at lovely elf and tree topped tables draped with black table cloths, red napkins, and white covered chairs. A fabulous lunch was enjoyed by all. It featured a plated salad of gorgonzola, candied pecans, sour dough croutons, sundried cranberries, shredded carrot, diced apple, bacon crumbles with Champagne vinaigrette. Entre was Tournedos Rossini, sliced tenderloin on a French baguette, bourson cheese, red wine demi glaze, tomato relish, twice baked potato, roasted asparagus and balsamic cherry tomatoes. Dessert was chocolate chip bread pudding, whiskey sauce and a whipped cream strawberry.
Highlights of the party:
Carolyn Thomas presented a check for $8061 from the Princess Tournament to Kathy Srokosz and Kim Raschke for the Presbyterian Diabetes Education Foundation. This is the eighth year of the Princess Tournament, the third year it has been a charity event. A record amount was raised by the tournament this year
Janie Farnsworth, President; Debbie Andrews, Vice President; Janie Cindric, Secretary and Jane Thompson, Treasurer were installed as officers for 2019.
Janie Farnsworth gave us the year in review: February Social, Travel Days, the Garage Sale ($1361.25), WGA/WLN Socials, Princess Tournament and Hearts for Homes.
Carolyn Thomas presented the Princess Rose Depoe with her holiday hat/ crown. Congratulations once again to Rose.
Jamey Siefert presented PGA Super Store gift cards and Martini Tees to our Birdie and Chip-in members.
Chip-Ins: Annette Graham, Shirley Revering, Mary Lee Garbowski, Sandra Waggoner, Delnia Crum, Carolyn Thomas, Karla Bennetsen, C.J. Palecek.
Birdies: C.J. Palecek, Susan Haley, Jan Norton, Frances Rolater, Karla Bennetsen.
Then Virginia Wheeless awarded $290 in Ringer money to the following for improving their scores: Ringers: Annette Graham, Jan Norton, Lane Adams, Karla Bennetsen, Deb Williams.