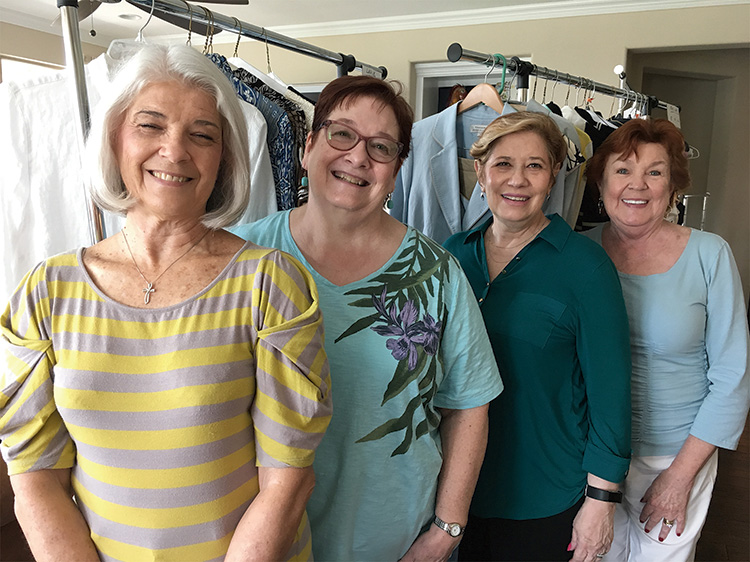 Theresa L. Peoples
Forty-two very generous women donated 608 pieces of clothing, 30 scarves, 16 pairs of shoes, 12 purses, seven belts, and dozens of jewelry pieces during our Business Casual Clothing Drive last week. Their career closet is now filled with a nice variety of fashionable slacks, blouses, sweaters, jackets, skirts, and dresses, plus the shoes and accessories. Per their request, half the clothing is size 12+, with the remainder being mediums and smalls.
With the closet at Friends of the Family filled to capacity, Nanci Odom, chair of the Community Relations Committee held back 60 pieces to use as replenishment over the next couple of months. The remaining items were taken to the Friends of the Family resale store on Dallas Drive, Upscale Resale. The women clients of Friends of the Family have access to the career closet for free and receive a monthly $25 voucher for their store.
Thank you to all who donated and a very special thank you to all who worked with Nanci, last week accepting donations at her house, and delivering items to Friends of the Family were: Joyce Frey, Gayle Coe, Celia Hall, Sandy Conwell, Karen Brannon, Lynne Moore, Sally Hampton, Linda Svoboda, Donna Gardner, Lana Aberbach, Angela Waters, Janice Brown, Barbara Geiser, Peggy Crandell, and Jan Utzman.
The staff of Friends of the Family were very appreciative as we took the last load this morning. The women recipients will be pleased, as well, once they see their new selections.