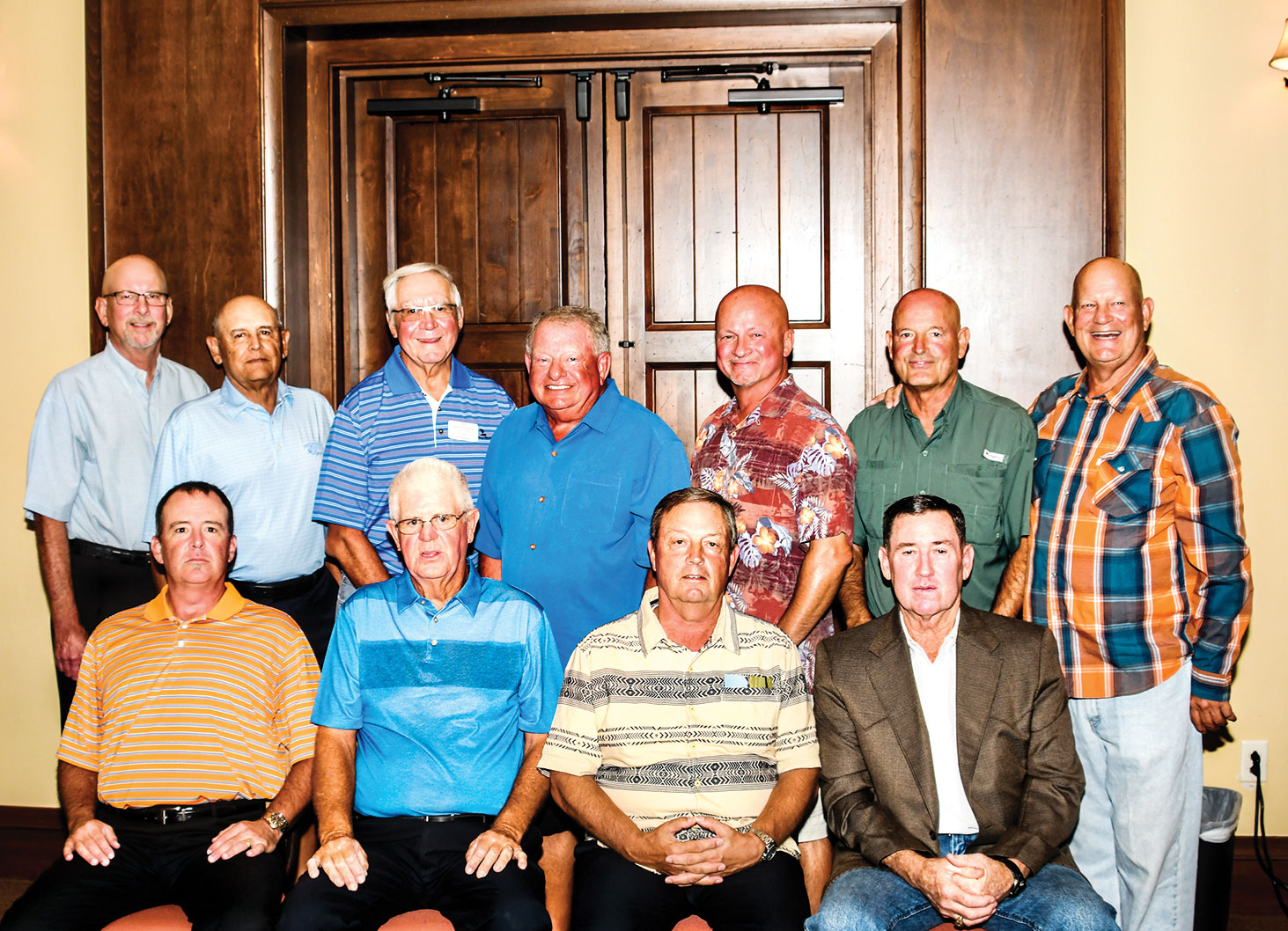 On September 9 and 10 the Men's Golf Association of Robson Ranch Texas sponsored the 2016 MGA Member/Guest Invitational Tournament at the Wildhorse Golf Club. This tournament is the MGA's premier event of the year providing a great experience for our members and guests and showcasing the Wildhorse golf course and facilities.
Since last year's tournament, Robson Ranch Communities has invested millions of dollars renovating the bunkers with new drainage and sand, opening a new and enlarged putting green, remodeling and expanding our Grill and Grill patio including new dining areas, expanded and customized bar and installing a new outside service window for golfers making the turn or having an early round.
Our guests came from many locations in and outside of Texas. The MGA Board thanks them for taking time from their busy schedules to join us in our premiere golf event.
Sixty-four member-guest teams were divided into six flights. The participants had hole-in-one opportunities to win two new cars and new golf cart, competed for the longest drive and closest to the pin in their flights and for tournament pay-outs and day money within their flights.
Following the first day of play on Friday, a scoring party was held at the new Grill patio. Food and refreshments were provided for players and their spouses/friends. Also the players competed in a chipping contest, and the ladies participated in qualifying for a Saturday night "Putting for Diamonds Final." The Saturday evening tournament closing party included a brief recognition of the flight winners and major sponsors followed by a Texas-style grazing dinner and musical entertainment plus the "Putting for Diamonds Final" for the ladies who qualified on Friday. Numerous door prizes were raffled off with the grand prize of $1,000 in cash won by Jim Cook, the guest of Mike Caron.
The flight winners were as follows: (1) William Vess and Doug Selsor; (2) Jeff Duncan and Mike McCabe; (3) James Burns and Bob Burns; (4) Gil Ortiz and Roland Drechsel; (5) Dennis Anderson and Gary Burton; (6) Tom Prohaska and John Little.
The Board's Member/Guest committee was chaired by Glenn Headley and consisted of Harry Anderson, Michael Beninato, Guy Bent, Larry Casazza, John Claudy, Ken Cline, Lawry Cohen, Joe Cooper, Steve Pettigrew and William Vess. The board thanks all who helped organize and stage this event including David Thatcher, Tom Wright and the Wildhorse Golf Club Pro Shop staff, Rhett Hubbard, Chef Aubrey, Jeremy Trietsch and the staff of the Robson Grill and Ryan Coffman, Christian Boyd and the entire ground crew, all of whom made outstanding and invaluable contributions to this tournament.
In particular the MGA Board wants to thank the tournament sponsors, many of whom played in the tournament and/or attended the Saturday evening closing dinner. These sponsors are listed below. We ask our members and fellow residents to peruse this list and to patronize them when possible.
The Robson Ranch Men's Golf Association thanks the following advertising sponsors of the 2016 Robson Ranch Member/Guest Golf Tournament.
Platinum Sponsors: Robson Communities and Tarrant Roofing
Meal Sponsors: Back to Eden, Charles Schwab, Grapevine Golf Cars and NorthStar Bank of Texas
Gold Sponsors: James Wood Auto Park, Matt Portz State Farm Insurance, Select Rehabilitation Hospital, Southwestern Carpets, UMB Bank-Denton and Wildhorse Grill at Robson Ranch
Silver Sponsors: Adams Furniture, Cool Screens Texas, Denton Smiles Dentistry, Huffines KIA Subaru, Scott Electric and Texas Health Presbyterian Hospital
Hole-In-One Sponsors: Classic Mazda Chrysler Dodge Jeep, James Wood Auto Park and Metro Golf Cars
Bronze Sponsors: Adams Exterminating Company, Adventure Golf Cars, BBS Realty, C & G Electric, Caroline Frenette-Re/Max DFW, Davin Ward Insurance Agency, Dermatology Center of Denton, Eckert Hyundai, Malone's Woodworking, Metro Golf Cars, Paradise Liquors, Relevance Capital Management, Ultimate Garage, LLC and Wise Health Systems/Fit-N-Wise
Hole Sponsors: Advanced Eye Care Center, Aquatic Pools & Spa, Argyle Dental Associates, Arrow Exterminators, Bar-S Foods, Budget Blinds, Corple Corral Golf Cars, Country Chiropractic, Dry Clean Super Center, Edward Jones, Farmers Insurance, Five R Realty, Ford Window Cleaning Service, Fosters Saddle Shop Inc., Fox Realtor Group, Garage Concepts LLC, Garray Landscaping Services, G.M.G. Builders, Houk Air Conditioning Inc., iRemodelit, Justin Ace Hardware, Justin Barber Shop, Kwik Kar of Argyle, Lone Star Golf Academy, Michael E. Fox P.C., Porto Finos Restaurant, Positively Clean, Southern Floors and Renovations LLC, Southridge Dental, Villa Grande and Weed Man