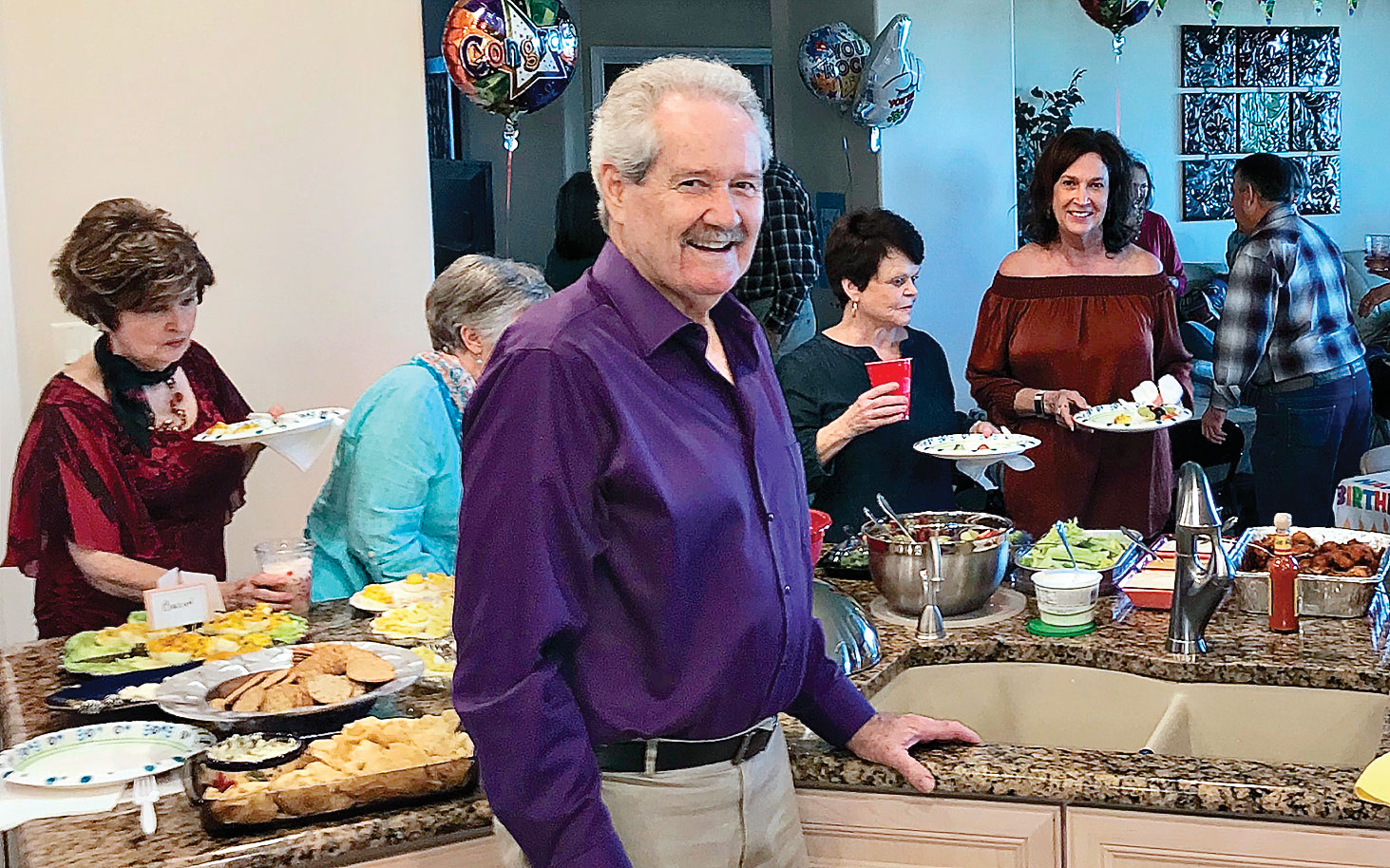 Nancy Toppan
A milestone had been on hold for 80 years until Nancy and Pete Toppan hosted a very special birthday party for Henry Evans who turned 80 years young this year. Henry has been the social dance instructor at Robson Ranch for over 12 years. This birthday bash designed by the dance committee was a hit from the start due to spot-on entertainment planning. Henry's favorite tunes played as guests reacted with delight to a slide show celebrating special achievements during eight decades of Henry's life on this planet.
The guest list was comprised of Henry's Robson Ranch dance students. Guests signed an enormous birthday card, gave awesome gift cards and contributed to Henry's favorite meal: a delicious potluck buffet.
Mild fall weather was perfect for dining both indoors and outdoors as guest weaved in and out among the shiny birthday balloons and colorful decorations.
Glasses were raised as Nancy Toppan made the first toast to Henry Lee Evans, Jr., born Sunday, October 23, 1938. Nancy's toast was "As we gather to celebrate this milestone, look around and count your age with friends, rather than years. On this 80th birthday, may you continue to be blessed with love, health and happiness. May you keep on dancing with zest and passion as you continue to live life to the fullest!"
Long time dance student, Paul Gage, made the second toast.
To Henry Evans
You put dance in our hearts…
I only wish there was more in my feet.
You have given your time and patience to the dancers at Robson Ranch
We thank you and wish you a Happy Birthday.
Then the "game" was on in the Studio of WANCY during Robson's own popular talk show, Texas Talk, which specializes in live interviews. The guest was Denton's very own Henry Evans, who's interview evolved from 27 very special questions that revealed interesting events in Henry's life, such as: "How did you get the name, 'Dance Whisperer'?" "What dance competition event was your biggest thrill?" "What was your most embarrassing moment while dancing?" "What was your most embarrassing moment while teaching a group dance class?" Henry's answer to, "What was the funniest thing you ever witnessed at Walmart?" was hilarious and very surprising. Other questions were about family, nicknames, college degrees and life's turning points. Henry's answer to one particular question, "Have you ever belonged to a gang", had the Texas Talk live audience rolling in the isles and holding their sides with laughter as he explained the carefully calculated reasoning behind his decision concerning gang membership.
Numerous people expressed what a very special and inspirational figure Henry has been to them during class and also outside of class. We celebrated this momentous occasion with an abundance of excitement, joy and happiness that came from the heart.
Our gracious co-hosts were Judi and Keith Fiegelman, Elizabeth and Paul Gage and Janet and Mike Slusher.
We would like to thank everyone who attended and made contributions towards this milestone event.