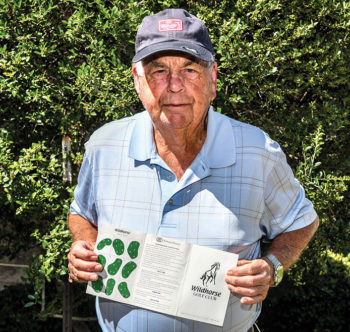 Wayne Ballard
In golf, an "Age Shooter" is a golfer whose score matches or is below his age. For example, a golfer of age 70 who shoots a 70 or better is an Age Shooter. We have several Age Shooters at Robson Ranch, but Don Wood may have set a new local Age Shooter record.
Every golfer strives for that one shot or one round that he will remember forever. Few have succeeded, but one of them is my fellow Robson Ranch golfer Don Wood. He is an avid golfer, a long-time resident of Robson Ranch and member of the Robson Ranch Men's Golf Association, and he just had a phenomenal round of 78 while playing at Robson Ranch with his regular foursome consisting of Don Pooley, Dave Delong and Jack Zastrow on Friday, September 1.
Now, shooting a score of 78 may not be a major accomplishment for some, but when you take into consideration that Don is 85 years young you can see why it is a memorable achievement. Don first shot a golf round equal to his age in 2012 when he was 81. I was with him that day when he lay 79, just two strokes shy of shooting his age, as he approached the 18th tee box at the Robson Ranch Golf Course. After a fine drive his second shot hit the pin and dropped in for an eagle and a score of 81! He was as excited as he would have been had he won the lotto. Since that time Don has recorded several rounds equal to or below his age, but the round on September 1 is his best and seven under may be an Age Shooter local record. Congratulations to Don the "Age Shooter" and keep hitting them straight.