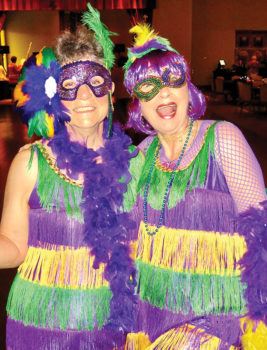 Vicki Baker
In English it's "Celebrate." In French, "Celebrer." In Spanish, "Celebrar." However you want to shout it out, celebrate life the way it should be lived with Road Runners on these not-to-be-missed festivities.
Tour de Mardi Gras
Shades of purple, green and gold, tons of beads, mouth-watering King cake, parades and parties—there's just nothing like Mardi Gras! Catch all the excitement and fun first hand as Road Runners celebrate Fat Tuesday in New Orleans, Baton Rouge, Lafayette and Lake Charles. Savor authentic Louisiana cuisine, dance to Cajun music, see outrageous Mardi Gras personalities and catch tons of beads. Expect the unexpected on this seven-day trip with a luxurious night at the stunning Nottoway Plantation (one of the South's largest antebellum mansions), the New Orleans's Krewe of Muses parade, Baton Rouge's Mardi Gras Spanish Town parade, Lafayette's Parc San Souci for the Krewe of Bonaparte parade, Cajun Swamp Stomp, beer and rum tastings, city tours and so much more.
Dates: February 7-13
Price: $1,499 per person, double occupancy
As an added bonus, Premier Tours Global will offer the guaranteed share program for Tour de Mardi Gras. Solo travelers book at the double occupancy rate and agree to be paired with another person of the same gender as their roommate. In the event a roommate is not available, they will receive a single occupancy room at no additional cost.
San Antonio Fiesta
Happy 300th Birthday, San Antonio! Join Road Runners as we celebrate San Antonio Fiesta, one of the nation's premier festivals honoring the city's rich and diverse culture. And this year all the stops will be pulled out to make this the most exciting, entertaining and unforgettable Fiesta of all time. Experience the Texas Cavaliers River Parade, dinner on the patio at Iron Cactus with fajitas and margaritas, El Mercado shopping, Night out in Old San Antonio Festival, Sandy Oaks Olive Orchard tour and tasting, shopping in Gruene and much, much more.
Dates: April 23-25
Price: $621 per person, double occupancy
Come travel with the Road Runners in 2018. For more information on these and other upcoming trips, check our website at www.rrrrclub.com. Road Runners has day trips, cruises and motorcoach adventures—a little something for everyone.