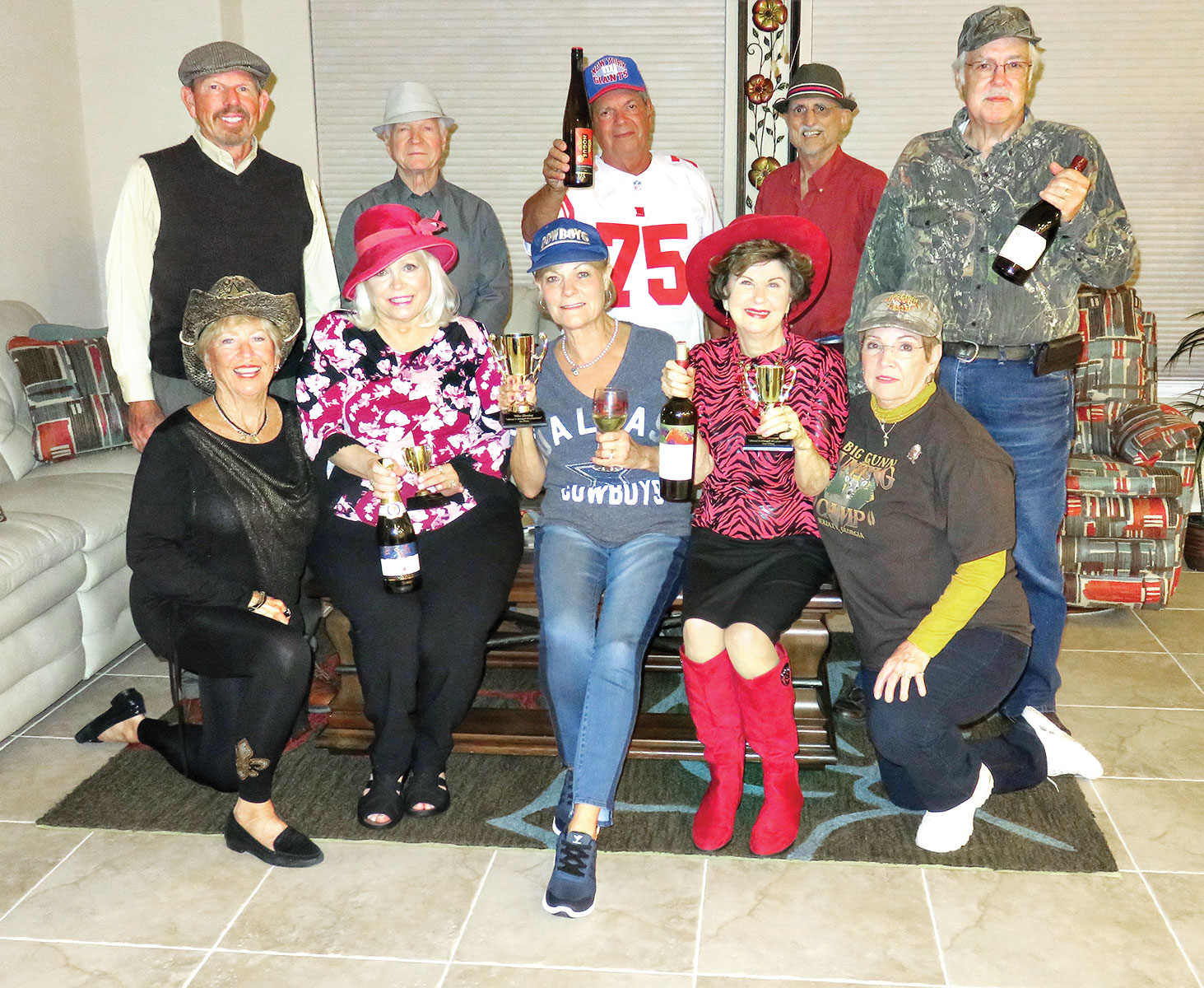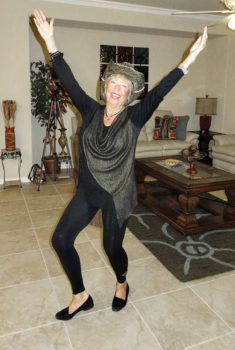 Nancy Toppan
In Heard It Through the Grapevine style, this lively group tasted fall wines while enjoying an array of delicious hors d' oeuvres and watching the stylistic mélange of our fall hat models.
The Toppan home was decorated for the season with autumn accents with touches of grapes and wines to celebrate the theme, fall wines.
The fashion show was characterized by the meaning the fall season had for each model.
Cat Bass was the winner of the female modeling competition, sporting her fall Saints cowboy hat that is adorned with a gold fleur de lis and black and gold beads. Wearing one of her favorite game day outfits and lucky Saints jewelry, Cat cheered for the Saints while dancing to Let's Get Crunked, the song played whenever the Saints score a touchdown in the Dome! Who Dat!
Ken Bass won the male modeling competition boogieing down, New Orleans style, to the music of the city. He is wearing a plaid news boys cap while showing he's still got those Crescent City moves!
Viv and Al Wright were fashionable, with Viv in her daring off the shoulder silk blouse and hot pink Sophia Bell hat flowing through her poses. Al is noble simplicity in his bone fedora, making demure hand moves.
"I'm a Cowboy fan. I sweat silver and blue." In Dallas Cowboy style, Terry Gilberti demonstrated her signature football moves in her Dallas Cowboy hat and attire. "The g-men play best with their backs against the wall". Michael Gilberti rolled out his New York Giants Football moves in his team's cap and gear.
"A-hunting we will go". For Mary and Roy Bryant, autumn brings deer hunting season. Dressed in camouflage hunting hats and apparel, Mary and Roy Bryant took us on a hunting expedition with their daring creation.
Nancy and Pete modeled trendy fall hats. Nancy made her statement with a bold red Stampede felt cowboy hat, with an eccentric-designed red and black blouse and knee-high red boots. Pete Toppan made his modeling debut dancing and showing off his brown Cove Fedora hat trimmed in red with a red feather and fiery red shirt.
Full-bodied whites and light- to medium-bodied reds are the perfect complement to cooler weather and fall harvest foods.
Our favorite fall wines: Viognier, Oaked Chardonnay, Soft Red Blend, Pinot Noir, Cabernet Franc, Merlot and sparkling wine.
The most versatile year-round wine of all, is champagne and other sparkling wines.
Winning the wine tasting competition was Terry and Michael Gilberti with a 2016 Hogue, a late harvest Reisling from Washington State's Columbia Valley. In second place was Nancy and Pete Toppan's 2016, 14 Hands, Hot to Trot, red blend from Columbia Valley. Viv and Al Wright's Rivata Prosecco Demoninazione Di Origine Controllata, extra dry white Italian sparkling wine came in third.
Fall hats and fall wines are a recipe for a fun evening.