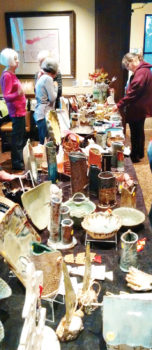 Carolyn Detjen
Have you ever made mud pies as a child (or even a grown up)? Is it possible that you chanced upon a mysterious deposit in the pile of dirt you were playing with? Perhaps, you may have made a lucky find. You could possibly have come upon a body of clay. When water was added to the unusual material how did it change in appearance and tactile touch? Was it like plastic that you could squeeze? We as potters buy 25-pound blocks of clay and try to work out ideas for cups or mugs or bowls and vases. Did you try to compose a ball or make a plate? Was it a failure? But wonder of wonders, you could squeeze it back together and try to invent something again! We are free from finality of form. We can alter it and create again.
Have you ever watched a child play with Play Doh? There is a sense of satisfaction that pleases the child and the adult; but, there are times when even the accomplished potter can be disappointed in their creation. When that happens, and it does happen, you just change your focus to another form for creativity. Don't worry, be happy!
The Happy Potters make a plan for production in the beginning of the year. We listen to and play videos learning new schemes for our artwork. We try to keep with the times and stay current so that our customers have a wide choice of items for self-satisfaction or to choose as gifts.
This year we stayed as busy as Santa's workshop making items for sale. On the day of the sale, October 13, we had many of you tell us how pleased you were with the selection of gorgeous items and how you looked forward to your shopping from our pottery. We want to express our appreciation to you. Without you we would have a very slow year but with your smiles as our goal we get excited and encourage each other as we roll out or throw our clay and glaze and fire exquisite glaze colors for your satisfaction. Thank you for giving us another wonderful year!