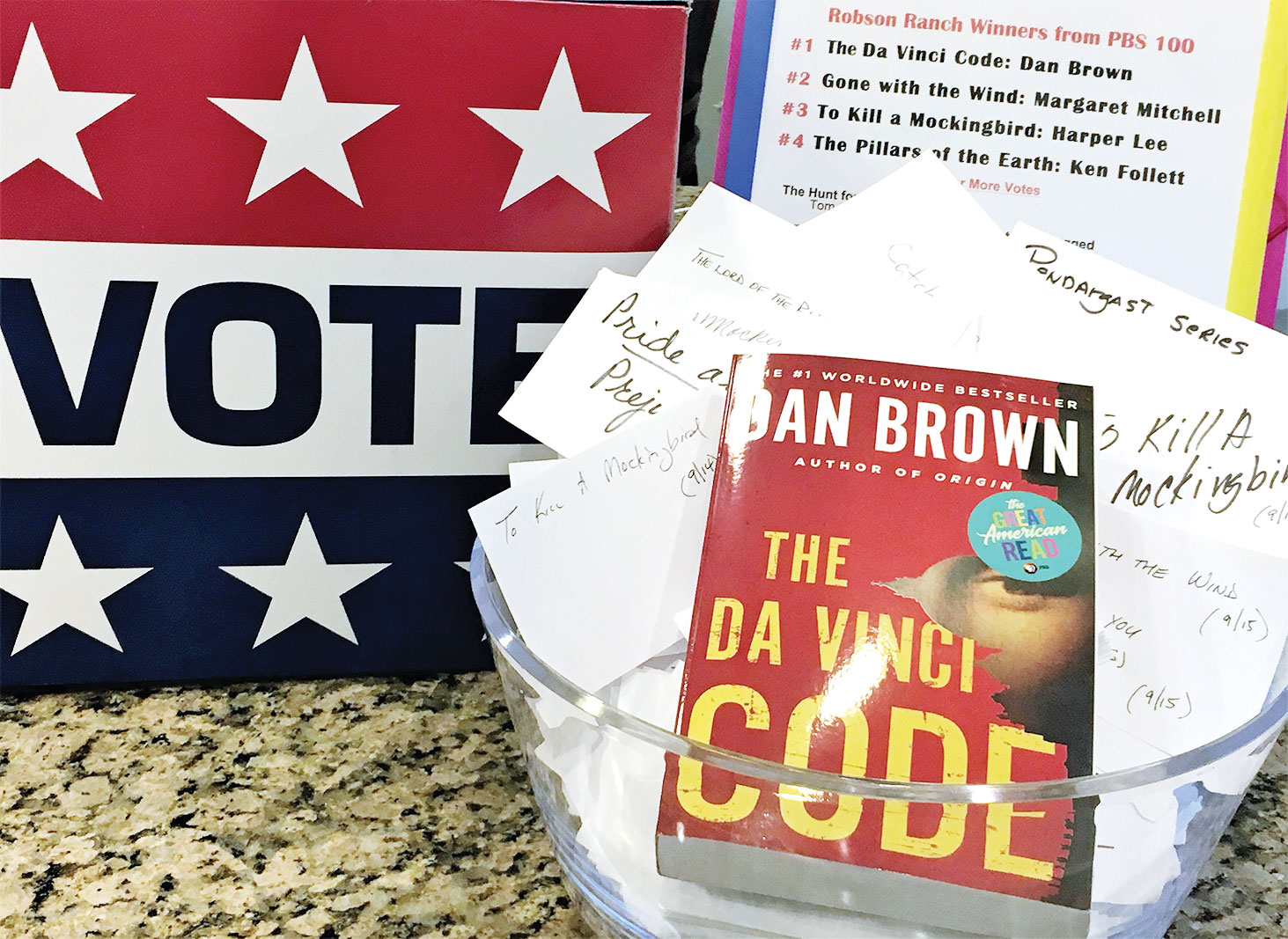 Linda Bono
What are you waiting for? It's time to get ready for the Big Book Discussion in the Library on November 14! If you haven't done so already, grab a copy of The Da Vinci Code and read it now—or more likely, reread it—so you'll be ready to participate in a lively and thought-provoking conversation.
Our Community Read was kicked off on September 30 as part of the library's ten-year birthday festivities. The suspense at the party was palpable as the crowd that gathered to celebrate the library's tenth birthday waited for the announcement of the winner of the vote for Robson Ranch's best-loved novel. Almost 1,000 votes were cast during the 46-day voting period that ended on September 15. Dan Brown's The Da Vinci Code was the clear cut first-place winner, immediately becoming the featured book for our first Big Robson Ranch Read! This will be the first in a series of library-sponsored community reads with the goal of having fun with books while creating a sense of community through literature.
Become a part of this new Robson Ranch literary experience. Read The Da Vinci Code, discuss it with your friends and neighbors and come to the library to join in the panel-led discussion of it on Wednesday, November 14, from 2:00 to 4:00 p.m. The panel will be comprised of four of our own Robson Ranch authors: Mary Jo Skillings Belding, Jan Marx, John Sandel, and Carl Smothers. They will offer their individual and collective insights on the book and encourage audience participation in the discussion as well.
Not sold on this as a fun thing to do yet? After the book discussion, we plan to adjourn to the The Wildhorse Grill for a social hour to get to know some of the discussion participants and fellow reading enthusiasts better. Because it's power hour at The Wildhorse from 4:00 to 5:00 p.m. we can all purchase drinks at a discount. Now we all know that'll be fun! And the Friends of the Library will kick things off with a complimentary cheese tray (that means free, not that we will tell you how wonderful you are! We already know that or you wouldn't be coming!). Mark your calendars now for November 14!