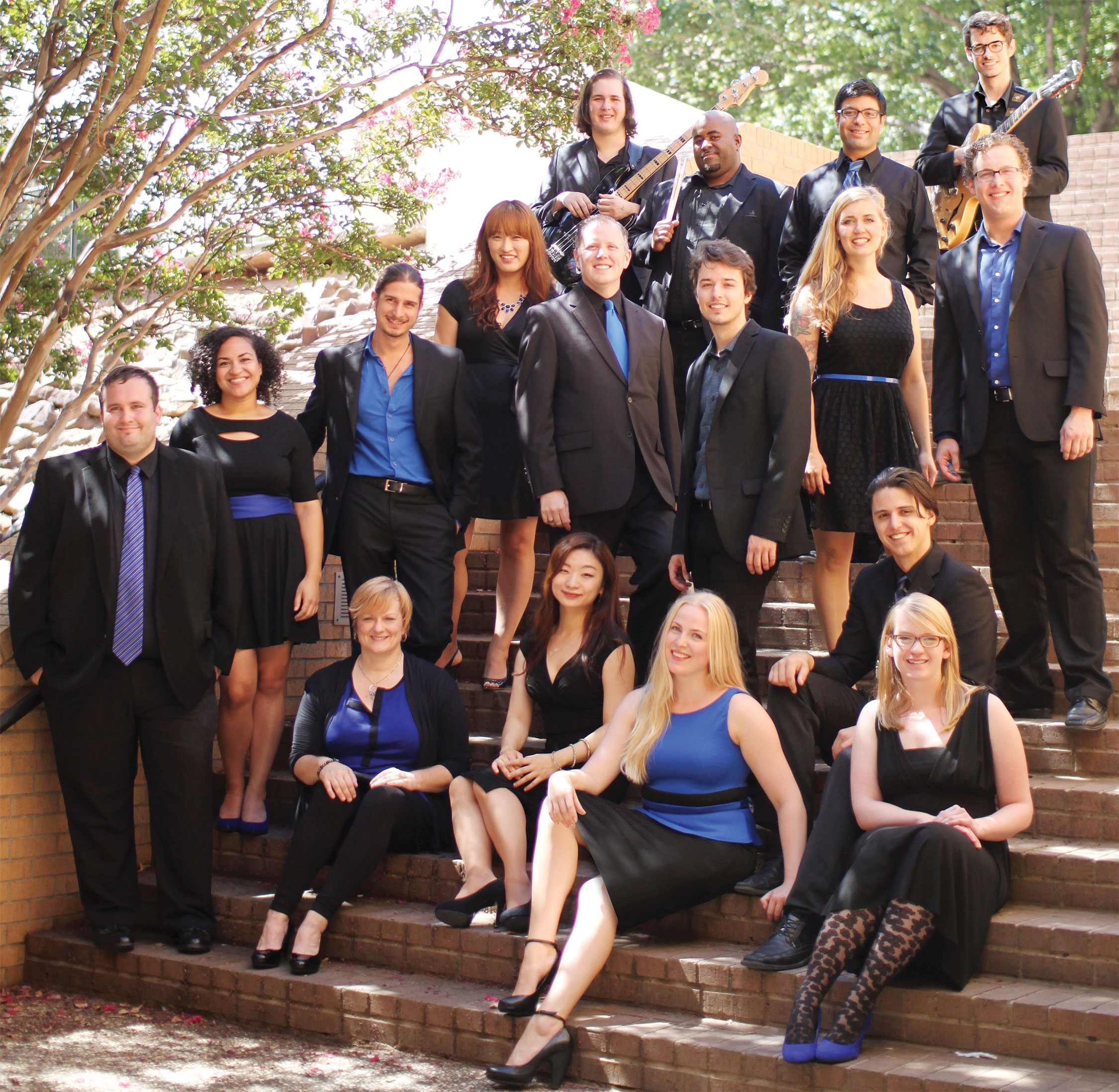 The HOA presents UNT Jazz Concert on Tuesday, October 25, 2016 at 6:30 p.m. in the Clubhouse Ballroom. Tickets are free.
The UNT Jazz Singers is the premier vocal jazz ensemble within the Division of Jazz Studies in the College of Music. Under the direction of Jennifer Barnes, Jazz Singers consists of 12 vocalists and a four-piece rhythm section that performs a challenging and varied repertoire of jazz and jazz-influenced music, emphasizing close vocal harmonies, cutting-edge repertoire and improvisation. The ensemble was the winner of the DownBeat (magazine) award for a collegiate Vocal Jazz Ensemble in 2016, as well as Outstanding Performance awards in 2015, 2013, 2012 and many years prior under the direction of the program's founder, Paris Rutherford.
The UNT Jazz Singers have performed at state, national and international music conferences and festivals, including those for the Jazz Education Network, International Association for Jazz Education, the American Choral Directors Association and the Texas Music Educators Association. They have performed by special invitation at the John F. Kennedy Center for the Performing Arts in Washington, D.C. as part of the "Sing, Sing, Sing" event featuring Jon Hendricks and The Manhattan Transfer. Jazz Singers is part of the comprehensive Jazz Studies major at UNT, which comprises a global student population of approximately 30 students who pursue Bachelors, Masters and Doctoral degree programs.
Jennifer Barnes is the Director of Vocal Jazz at UNT in addition to being a highly sought-after vocalist, educator, clinician and arranger throughout the U.S. and Canada. She has directed award-wining Vocal Jazz Ensembles at eight universities, won a 2016 "Jazz Education Achievement Award" from DownBeat magazine, has served as a guest conductor for District and All-State Music Festivals in 16 states and her vocal arrangements are published by Sound Music Publications and UNC Jazz Press. In addition to her teaching activities, Jennifer is an active performing and studio vocalist including her roles as alto vocalist, composer and arranger for the professional vocal ensemble Vertical Voices, as well as singing solo and group vocals for television shows, video games and films World of Warcraft, Wall-E, Enchanted, Ice Age (2, 3 and 4) and Glee. Ms. Barnes is a member of several organizations. She earned the Master of Music degree in Studio Music and Jazz Performance from the University of Miami (FL) and the Bachelor of Music degree in Piano Performance from Western Michigan University.
UNT Jazz performance groups "Jazz Singers" and "Third Street" will present vocal standards and light jazz on Tuesday, October 25, at 6:30 p.m. in Clubhouse Ballroom. Video clips can be viewed on www.YouTube.com by entering "UNT Jazz Singers" in the search bar. Tickets are free and available Monday through Friday 9:00 a.m. – 4:00 p.m. starting October 3, 2016 at the Activities Coordinator's desk. The deadline to pick up your free tickets will be Monday, October 24.