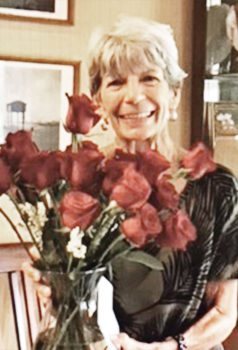 Cecilia (Cel) Marie Palmer Muff
Cecilia (Cel) Marie Palmer Muff, beloved wife, mother, grandmother and great grandmother, age 78, went to be with her Savior on September 8.
Born August 18, 1940 in Chanute, KS to Harold Charles Palmer and Emma Ann Palmer.
Cel was a woman of dignity and class and she exuded a sense of strength when she walked into any room. She was loved and respected by all who were fortunate enough to have crossed paths with her during their lifetime. She was a life-long educator at the high school and collegiate level. Her passion for education was inspired by her parents who were also teachers and coaches. She retired after a 34-year career in the Health, Physical Education and Recreation field. During that time, she was also active as a coach in tennis, volleyball, basketball, track and swimming. She retired from her last teaching position in Salina at USD 305. Cel and Larry, her husband of 56 years, shared their love of learning and fierce competitive spirit with their families, especially their children and grandchildren.
Cel spent much of her married life in Salina, Kansas, where she was an avid golfer and active in many organizations which helped to bring sports to children and families. She lived her last six years in Robson Ranch TX where she continued to teach and develop lifelong friendships with many new friends. Most of her friendships began as she volunteered to mentor other members of the WGA and WLN "Lady Niners" golf group.
Cel was a graduate of Washburn University in Topeka, KS, where she was active in cheerleading and the Kappa Alpha Theta Sorority.
She was preceded in death by her parents, Harold Charles Palmer and Emma Ann Palmer. Survivors include her husband Larry E Muff, brother HC Palmer and his wife Valerie of Lenexa, KS, sons Kevin and his wife Kim of Topeka, KS; Sam and his wife Cassandra of Keller, TX. Six grandchildren, Alexandra Doller, Lenexa, KS; Skyler Muff, Boston MA; Taylor Muff, Greeley CO; Kenna Muff, Keller, TX; Zachary Muff, Keller, TX and Callie Muff, Keller TX. One great-grandchild Jordy Ann, daughter of Alexandra and Jake Doller, Lenexa, KS.
A celebration of life will be held on Saturday, October 20, 2018 from 3:30 p.m. to 5:30 p.m. at the Robson Ranch Clubhouse, 9501 Ed Robson Blvd. Denton, Texas (TX) 76207.
In Lieu of flowers, memorials may be made to VNA Hospice of Texas, Bear Attackers Club (www.uncbearsvolleyball.com) Northern Colorado University Volleyball, Texas Woman's University Foundation/Volleyball Support (PO Box 425349, Denton, TX 76204).