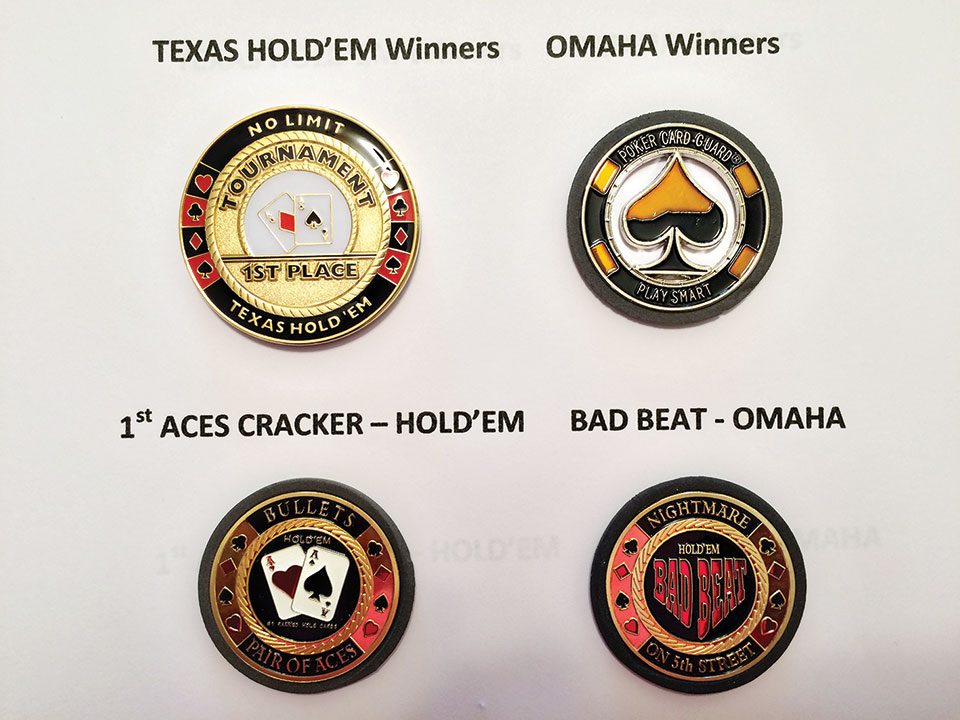 John Burkholder, Poker Club Tournament Director
The Inside Straight Poker Club's upcoming 2017 tournament schedule promises challenging poker, player excitement and winner awards. Bi-monthly tournaments alternate between Texas Hold'em and Nebraska Omaha as follows: March 14, Omaha; May 9, Hold'em; July 11, Omaha; September 12, Hold'em; November 14, Omaha.
Each tournament winner is awarded an attractive poker-card-guard medallion testifying to their uncanny poker skill and table stamina, plus annual bonus medallions for Bad Beat in Omaha and first Cracked Aces in Hold'em. These heavyweight, colorful, poker-card-guard medallions are exceptional bragging medallions to utilize each and every Tuesday poker night through the remainder of this year and thereafter!
The Club's first 2017 Hold'em tournament was held January 10 and attracted three full tables of eager to win players. Our weekly Tuesday night games have averaged between three and four full-tilt playing tables with dealer's choice of games, either Hold'em or Omaha.
The action is here along with great fun and the camaraderie for friendly poker competition. Come on over to the RR Clubhouse any Tuesday evening from 6:30 – 9:30 p.m. to test your poker skills. The games are fast and fun; the atmosphere jovial and friendly!