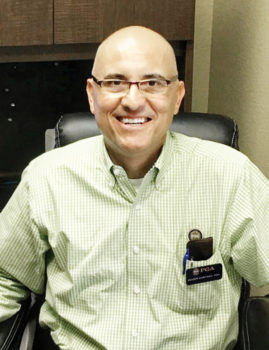 Virginia Wheeless and Steve Shepard
There is a new smiling face on the Ranch. We are sure you have seen him around the Pro Shop and Wildhorse Golf Club. It's Roger Martinez, the new Director of Golf Operations and Golf Pro who arrived in mid-September. If you ask him why he is always smiling, you will get an even wider smile and a quick reply – he loves life, family, his job and golf. Robson Ranch was made for Roger Martinez and Roger Martinez was made for Robson Ranch. In fact, he says it is his calling.
Roger, a 25-year PGA golf pro, came to Denton from New Mexico and PGA of America. For over 20 years, he served in senior level positions at Santa Ana Golf Club in New Mexico giving him experience in budget development and implementation, employee development and supervision, marketing and community outreach, new revenue generation, golf course construction, course maintenance and pro shop oversight and sales. That experiences match what is needed at the Wildhorse Golf Club.
In addition, Roger brings PGA professional experience to Wildhorse golf operations. He has mentored 40 PGA professionals and has already begun the process of supervising our instructors so they can achieve their PGA teaching professional status. With the opening of another nine holes, Roger's credentials as a PGA professional adds another level of prestige to the Wildhorse Golf Club.
When you enter Roger's office, you can quickly see how the adjective "organized" appropriately describes him. One wall is covered with lists of projects he wants to accomplish with the golf staff. They cover small steps like changing out the plastic hangers in the pro shop to wooden ones for a professional appearance, to bigger goals that will help increase revenue.
Roger operates in a very organized world. Phone messages are kept and filed when calls are returned. You can't get by with the excuse, "but I called and you didn't return my call." He will certainly keep Staples running frequent trips to the Ranch to bring legal pads for his notes. At the end of each month he reports to Kent Coleman, his supervisor, what he has completed and what remains to be done. And, yes, he files those pads for "prosperity".
It's easy to know where Roger wants the Wildhorse Golf Club to go. He speaks of three goals.
1) Change the culture in golf operations; help the golf staff become ambassadors and communicate a sense of service, "How may I help you? What can I do for you?" This will, in turn, bring golfers back. Engage residents to embrace their ownership in the Wildhorse and increase their golfing activity.
2) Establish and use a digital platform to engage people to help make the Wildhorse their golf course of choice. Use Instagram at WildhorseGolfRR, Twitter at WildhorseGolfRR and Facebook at RobsonRanch@WildhorseRR https://www.facebook.com/WildhorseRR/ to get golfers to return to play again, contact potential golfers to come to the Wildhorse Golf Club and share lists with the instructors who can contact potential clients who in turn will play here.
3) Grow rounds of golf with the transition to 27 holes of golf. Work with golf maintenance and food and beverage to smoothly move to a larger golf presence in North Texas to attract more golfers. Expand tournaments and resident offerings to utilize all 27 holes on a daily basis.
Roger came to Robson Ranch with his bride, Selina, of 32 years. Their three daughters, one son-in-law, and two (and another on the way) grandchildren live in Lubbock and Rio Rancho, New Mexico. It is easy to see how important family is to Roger. Just drop by his office where the door is usually open and ask him about his grandchildren, living in Argyle and, of course, golf.