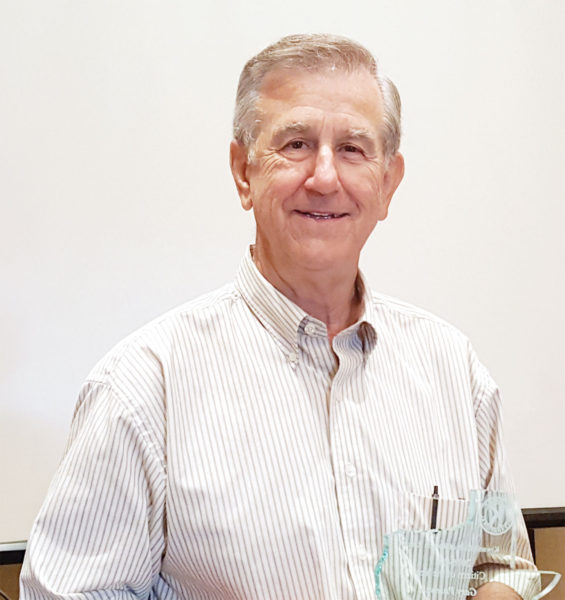 Vicki Baker
Generosity of spirit. Kind and caring heart. Putting others before oneself. These are things we aspire to be yet seldom achieve. But there is such an individual among us at Robson Ranch: Gary Pniewski. To recognize his unselfish dedication to serving others, he is named Robson Ranch's 2017 Citizen of the Year.
Moving to Robson Ranch some 10 years ago, Gary immediately became involved in making our community (and the world) a better place. Joining Support our Troops, he works tirelessly on projects earmarked to provide our deployed troops moral support from monthly "care packages" shipped overseas to actively working on the silent auction, the club's signature fundraiser, and hosting Fort Hood troops during the annual golf tournament. Honoring our military throughout the year, he routinely places the U.S. flags along the roadways and boulevards.
Eagerness and flexibility also define Gary. He is always willing to jump in and help with any task, even when unexpected things occur. This is especially critical when working with children. He has mentored at Borman Elementary School over the past six years, one day instructing a student in reading, the next holding a tearful child.
Facing end-of-life situations can be very discomforting and fearful for some, and great people step out of their comfort zone and take on challenges others shy away from. Aware of the high risk for emotional attachment and heartbreak, Gary never fails to extend companionship to neighbors on hospice care during their final months or weeks of life. He provides respite care to family members and caregivers and lends emotional support during the grieving process.
Honesty and integrity are traits Gary takes to heart while serving four years on the HOA Architectural Landscape Committee. As with all things in life there are no shortages of "oops moments" when reviewing and authorizing construction requests made by residents and in investigating violations. Gary always stays open and honest with residents making a lasting and positive impact on our community.
Engineers are known for their reliability and commitment to task, and Gary is no exception. Instrumental in starting the "Ranch Hands" home repair program a few years back, he continues to routinely perform household repairs for RR residents. If he cannot complete the work himself, he ensures the correct contractor will get the job done right.
Gary isn't all work and no play. He brings a fun and loving spirit to RR softball games which he has played and umpired for seven years. With his love of the sport, Gary helped organize the RR Men's Group and arranges outings to the Frisco Rough Riders ball games.
Being selfless is what Gary Pniewski is all about, a constant champion to friends, neighbors and anyone in need. He is passionate about giving of his time to help others, continuing to give year after year. He is humble and refuses to boast of his accomplishments or tasks. He is an amazing man with no off switch. He is Gary Pniewski, Robson Ranch's 2017 Citizen of the Year.