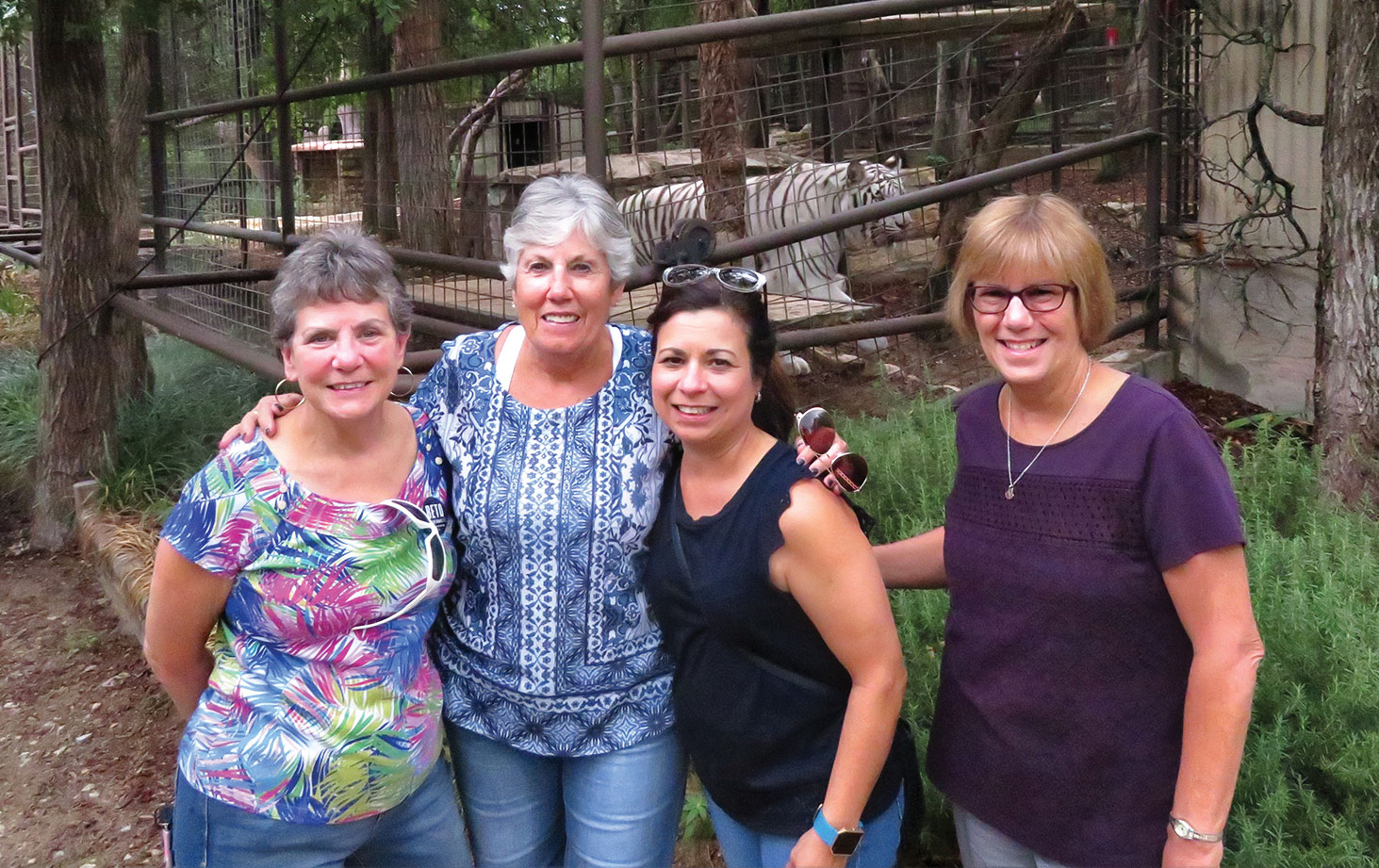 Vicki Baker
One of the many memorable catchphrases from the 1939 film version of The Wizard of Oz was the refrain "Lions and tigers and bears. Oh, my!" spoken by Dorothy and her companions as they prepared to enter a dark, forbidding forest on their way to Oz. Girls on Wheels, however, didn't journey down any yellow brick roads to witness these magnificent creatures. They were found just a short drive away at the International Exotic Animal Sanctuary (IEAS) located in Boyd, Texas.
IEAS, a 55-acre home to many exotics in a simulated natural habitat, was a rewarding and enriching experience. Definitely not a zoo, this non-profit wildlife sanctuary is only open to the public for limited, regularly scheduled tours. It currently houses about 75 animals including African lion, Bengal tiger, black bear, grizzly bear, mountain lion, bobcat, ring-tailed lemur, coati mundi, caracal, capybara, American gray wolf, serval, jaguar, cheetah, bobcat and ocelot.
Our almost three-hour walking tour was guided by an intern who was knowledgeable, thorough and passionate about his work. The animal habitats were large and much more intimate than you would experience at a typical zoo containing natural vegetation, misting systems, water features and pools, river systems and "houses" providing safety, privacy and enrichment for the animals.
Our guide introduced each animal by name and explained the circumstances which brought the animal to the facility. Unfortunately, a common theme ran through each animal's history; they were seized because they were illegally obtained, kept in substandard or too small enclosures and/or the owners could no longer adequately care for them. On occasion, some animals were transferred from other similar sanctuaries.
The guide was very respectful of the animals and did a great job of balancing the time at each exhibit to give us a chance to observe and ask questions without overly stressing the animals. We were allowed to linger at each enclosure and, at times, were even able to get as close as six feet to the habitats.
The healthcare and dietary needs for every animal in the sanctuary are supervised by an on-site veterinarian. We were also taken to the kitchen where all of the animals' meals are prepared and learned about their daily dietary habits.
Our visit to the International Exotic Animal Sanctuary reaffirmed that we are not alone on this planet; we share this world with magnificent creatures. "Animals are such agreeable friends, they ask no questions; they pass no criticisms". The same can also be said for Girls on Wheels.