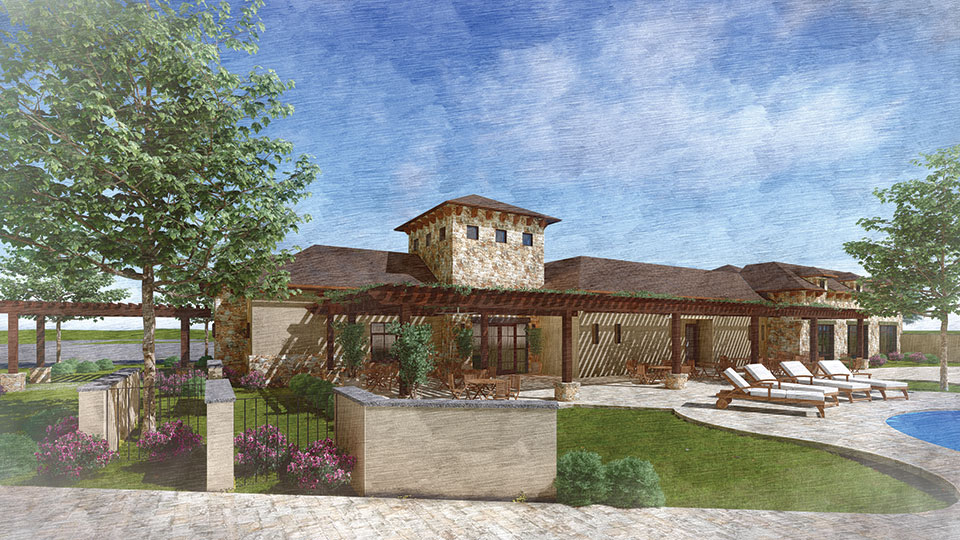 Sherry Jackson, RCI Corporate Communications
Development has begun on a new, multi-million dollar fitness facility at Robson Ranch Texas.
The 9,500 sq. ft. under one roof building, Pinnacle Fitness Center, will be located next to the resort-style pool and will feature the latest cardio and weight machines. Treadmills, bikes and elliptical machines will have individual TVs attached. A lounge area will provide a small selection of pre-made snacks and bottled juices available for purchase.
"The new fitness center will be somewhat of an extension of the existing Sports Club, energizing residents to work out surrounded with a bold color scheme of oranges, teals and lime greens," says Carissa Thompson, design director with Kimberly Timmons Interiors. "An ample amount of natural light will wash into the fitness area with large windows. The building will also have a large patio that can be enjoyed with friends after or before workouts."
The Sports Club will also be getting a refresh to its interior. The current room that houses the fitness center will be converted into a group fitness room.
The Pinnacle Fitness Center is anticipated to be completed first quarter 2018.