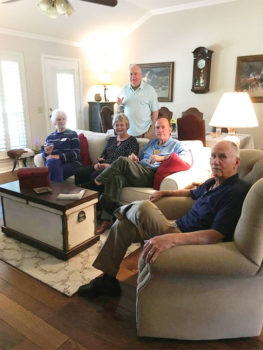 Brenda McKenzie
The March-April rotation is winding down, and the schedulers will soon be preparing for the May-June rotation. Just a reminder to members, there is no regular potluck rotation during the months of July and August.
The Potluck Club is open to all Robson Ranch residents. Six to eight people meet for a meal four times during the year. The appetizers, side dishes, desserts and, of course, the entree´ are shared by the group. You host once during the year. Four rotations are scheduled during the year: January/February, March/April, May/June, and September/October. The yearly membership is $5 per household. The membership application can be found on the Robson website under Activities/Announcements, Potluck Club.
Members, don't forget to mark your calendars for June 14 (Flag Day) for the Potluck Club's annual Safari dinner. Cost is $10 per person and the deadline for reservations is May 11. Check your email and/or MyGrove for additional information.