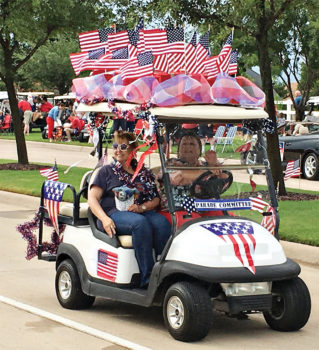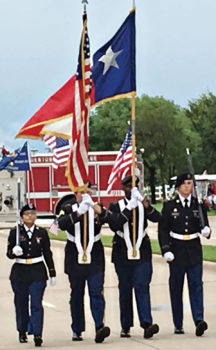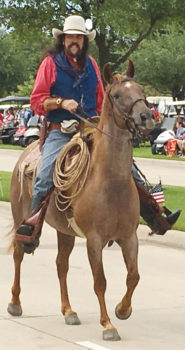 Get your red, white and blue on and join the fun at the annual 4th of July parade!
The heart and soul of our parade is the Robson Ranch residents. Clubs, families and individuals are encouraged to participate. You can enter floats, vintage cars, convertibles, motorcycles, decorated golf carts, mopeds, bikes and wagons or just walk in the parade. Pets are welcome to ride or walk (on a leash, please) too. Veterans will have a special section in the parade. So start planning to participate in the parade or be one of the many enthusiastic spectators.
Paper copies of the Parade Registration Form are available in the clubhouse in the kiosk across from the HOA desk. If you have any questions or would like a registration form emailed to you, contact the following chairpersons of the Robson Ranch 4th Of July Parade Committee: Gary and Debra Noguera, email: gade@mygrande.net or Steve and Rose Depoe, email: steve.depoe@gmail.com or rose.depoe@att.net.
Sheilah Ross, Publicity Chair
On July 4 at 7:00 p.m. the Robson Music Club will present a free patriotic concert as a thank you for 12 years of your continuing support of the Community Choir concerts, karaoke and all Music Club events. We appreciate our wonderful Robson Ranch residents, and we want to give something back to you, our friends and neighbors, to say thank you.
The Denton Community Band, under the direction of Carol Lynne Mizell, will perform your favorite patriotic music to celebrate the 241st birthday of our beautiful country.
Carol Mizell has conducted the Denton Community Band since 1978. She holds B.M.E. and M.M.E. degrees from the University of North Texas. She is also conductor of the Handbell Choirs at First United Methodist Church, Denton, and a long-time member of the FUMC Chancel Choir and Chamber Choir. We are pleased the Denton Community Band will be here at Robson again this 4th of July.
You can pick up your free tickets starting on Monday, June 19, between 9 and 11 a.m. in the clubhouse, then every Monday, Wednesday and Friday as long as tickets are available. Tickets are limited to six per household. There are no advance reservations. Tickets will be given out on a first come basis until they are gone. Please watch the message board and HOA emails for up-to-date information on availability.
Doors open at 6:30 p.m. on July 4. Open seating. We hope you will join us!
Judy Ondina
It's time to warm up for the Fourth of July fun walk/run. The Fourth of July commemorates the signing of the Declaration of Independence in 1776. At Robson Ranch it is another time to celebrate our freedoms and honor our military men and women.
Once again your Living Well Committee is organizing the three-mile Firecracker Fun Run/Walk for the Fourth of July. This is a wonderful fun way to start your Fourth of July activities here at Robson Ranch. Preceding the parade we will gather starting at 7 a.m. and the run/walk will start at 7:30 a.m. This allows you plenty of time as the parade begins around 9 a.m. This event is free and open to residents, kids, grandkids, friends, neighbors and even our four legged pets. The three-mile route will be supported with directional signs, walk leaders and water stations.
Following the race enjoy a juicy slice of watermelon as Doug's Country Market will provide watermelons for you after your walk/run. If you have any questions email Fred van Naerssen at phredvn@gmail.com.