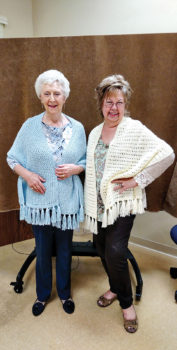 Mary Nordenson
"Shawls…made for centuries universal and embracing,
symbolic of an inclusive, unconditionally loving God.
They wrap, enfold, comfort, cover, give solace,
mother, hug, shelter and beautify
Those who have received these shawls have been
uplifted and affirmed, as if given wings to
fly above their troubles…"
Written in 1998 by Janet Severi Bristow Copyright ©2017; Source: https://www.shawlministry.com/
The Prayer Shawl Ministry organization began 17 years ago in Hartford, Connecticut by Janet Severi Bristow and Victoria Galo who used the love of knitting and crocheting combined with prayerful ministry to reach out and comfort those in need.
What is a prayer shawl? Prayer shawls have many names: comfort shawls, peace shawls, mantles. Shawls come in a variety of shapes and sizes. A prayer or blessing is attached to each shawl made. Giving someone a prayer shawl is an act of kindness and caring. Shawls can be knitted, crocheted or quilted. Beads, fringe, charms or shells etc. may be added at end to signify the unconditional love and caring associated with this gift.
What is a prayer shawl used for? According to the Prayer Shawl Ministry, prayer shawls "can be used for undergoing medical procedures; as a comfort after a loss or in times of stress; during bereavement; prayer or meditation; commitment or marriage ceremonies; birthing; bridal shower or wedding gift; leading ritual; during an illness and recovery; ministering to others; graduation, birthday, anniversary, ordination, holiday gifts; or just socializing."
What have the Yarn Divas done? When tragedy struck the Dallas police department in 2016 with the loss of five policemen, the Yarn Divas donated several shawls to comfort the families of the officers who died. Yarn Divas members also make prayer shawls and donate them to their individual churches. Finally, members may send prayer shawls to friends and family, locally, regionally or internationally to make sure the people in need know someone cares about them. Each of the prayer shawls has a note pinned to it like the following:
"This shawl was made just for you: to bring comfort; to know you are loved; to share in your joy. This shawl is to wrap you up: when you're cold; when you're hurting; when you need to snuggle. This shawl was knitted: with blessings; with love; with prayers. Made for you by ……."
Yarn Divas also donate 7 x 9 inch crocheted squares to Michael's for Warm Up America. Michael's employees have a volunteer group called Yarn Yoga who take the squares and turn them into blankets for the needy. This is yet one more way members of the Robson Ranch Yarn Divas give back to the community and to those most in need.