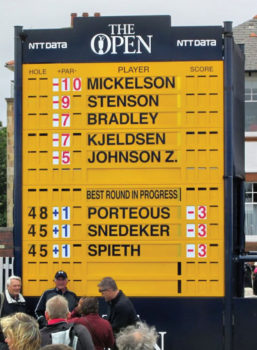 Janie Farnsworth
Eight Robson Ranchers packed up and flew to Amsterdam and boarded a Celebrity Silhouette ship to cruise the British Isles. Rebecca and David Laschinger, Jane and John Thompson, Janie Farnsworth and Grace Ann Gallagher met up with Kay and David McKie. We were joined by friends of theirs from Richardson. Jan and Ron Taylor along with Janie Farnsworth's cousins, Doug and Greg Hall from California, made up the 12 of us cruising our way to Belfast and then on to Glasgow for the Open. The Scots get very upset if you refer to it as the British Open. It is just the Open.
We arrived on Saturday to a misty, chilly day and made it to Spectator Village, which to my surprise included a ton of people tailgating. Just no cars. Spectator Village includes a giant television screen and people are spread before it with pillows, blankets, chairs and coolers. I was amazed because 50 feet away is the golf course. They paid the same as us to get in but preferred to be attached to their coolers I guess. Spectator Village also included all the food booths. You had your traditional fish and chips, sausages, hot dogs, hamburgers, pizza and pasties. Grace Ann introduced me to pasties. It is a pastry much like a calzone but thinner and filled with grilled meat and onions. So good.
Each hole had a bleacher set up. Grace Ann and I sat on Number 15 and watched all our favorites come through. The stands were like a rotating circus. As soon as the players were done then people would leave to follow that particular twosome, and people would arrive to follow the upcoming twosomes. We got to visit with so many locals as they sat down next to us. One woman told us she was a member of the Troon Golf Club. She played with an organization that played on the nine-hole course. Their course right now was a parking lot. We also had many people who had relatives that live in Texas.
The Open is considerably more reserved. There is no shouting the player's name. No shouting "Get in the hole." However, some of the spectators do dress in costume. There was the Harry Potter Wizard Group as well as some rabbits. Never quite understood that one. Lots of shopping available in the huge store. My credit card had a ball. All in all it was a fabulous day. I did feel for Jordon, though.
Our journey continued with a private driver the next day into the highlands. Beautiful scenery. Then we were onto Dublin, Cork, Liverpool, Guernsey Island and Paris.