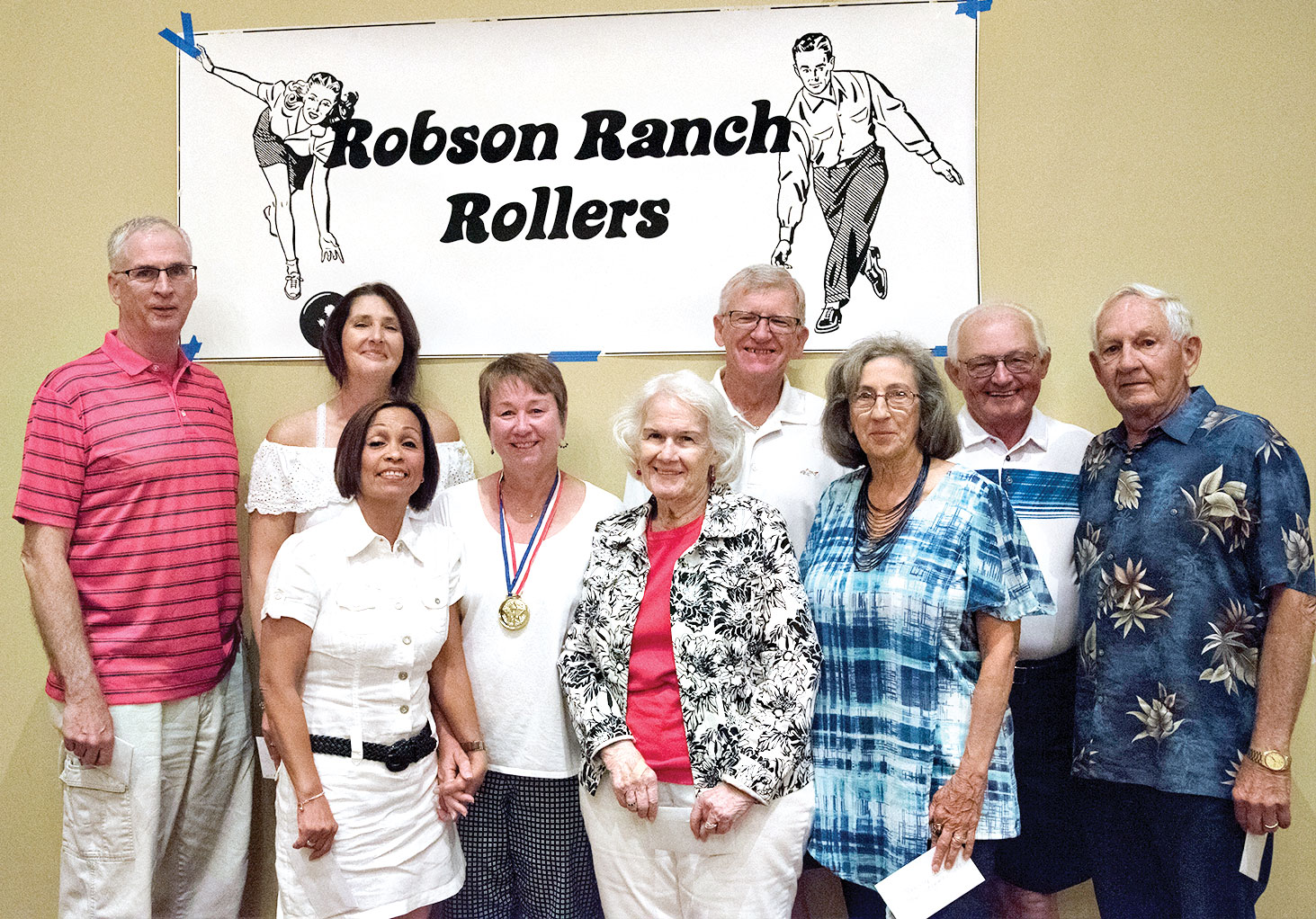 Larry Klein, Reporting Treasurer, Robson Rollers
For sixteen weeks, from September through April, over 300 Robson Ranch residents bowl in six leagues. They bowl for fun, a little exercise, a lot of socialization and if fortunate, good or lucky enough, a little recognition and prizes. The Robson Rollers celebrated the end of this season and announced the start of the 2018-19 season at a dinner in The Robson Ranch Clubhouse on May 10.
This event also marked the retirement of President Sheila Van Pelt and Vice President Ken Gantos. Sheila was unexpectedly and unavoidably out of town for the banquet; Ken Gantos stepped up and served as Master of Ceremony for the affair.
Under Sheila's leadership all the league play was consolidated at a single venue, the Brunswick/AMF Lanes in Denton. Previously bowling leagues were split between two different bowling centers. The league bowls twice each month for a total of sixteen weeks. Each league is managed by a League Secretary/Treasurer who is responsible for all of the financial and administrative activities of the league. The leagues and secretary/treasurers for the 2017-18 year were Monday Madness, Rich Fitzgerald; Robson Morning Rollers, Tricia Douglas; Robson Sundowners, Rich Fitzgerald; Bowling for $$s, Diane Bent; The Strikers League, Cyndi Stampf and Thursday Thunder, Carol Walker.
Off Today, bowling in the Tuesday Morning Rollers and Exit 79 Strikers, bowling in the Wednesday Sundowners league each earned 44 out of a possible 64 points taking first place in their respective leagues. Many bowlers were recognized for individual and team accomplishments. Awards were presented to individuals for both scratch and handicap games, series and season averages.
The league elected new officers for the 2018-2019 year. The following were elected as next year's league officers: President Mary Ann Klein; Vice President Larry Carlson; Reporting Treasurer Larry Klein; S/T Monday Madness Rick Fitzgerald; S/T Robson Morning Rollers Tricia Douglas; S/T Robson Sundowners Bob Pywowarczuk; S/T Bowling for $$s Jimmy Burns; S/T The Strikers League Jimmy Burns and S/T Thursday Thunder Carol Walker.
In addition to the fun and excitement during the year the league accomplished several administrative and operational objectives. The league applied for and obtained verification of its tax-exempt status from the Internal Revenue Service and also from the State of Texas Office of the Comptroller its Franchise Tax exemption. Lastly, the League adopted its Bylaws and made various clarifications to its League Bowling Rules.
During the summer months the League sponsors a ten-week summer league organized by Tricia Douglas. That league is in progress as this issue goes to press.
Registration for our 2018-19 season will be at the Robson Ranch Clubhouse several days in August. Watch for dates and details in the Clubs/Activities Update email from our HOA.