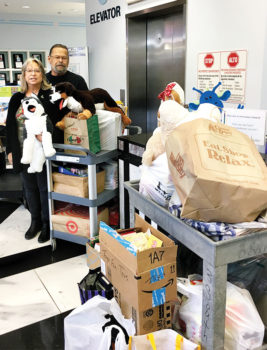 The Robson Ranch Singles Club just completed another of its periodic community service projects to benefit deserving groups in the local community. In keeping with fostering the holiday spirit, the club collected and presented a wide variety of toys and gift cards to boys and girls at Cooks Children's Hospital. Cooks is an organization which specializes in pediatric medicine and offers a wide variety of programs and services at numerous locations in the DFW metroplex.
The club collected a room full of new toys, gift cards and special needs for the 2018 Christmas Wish List for hospitalized children at Cook Children's Hospital in Fort Worth. This is the third year the club had a charity drive to provide gifts to needy boys and girls. Dorothy Pointer and Butch Whaley delivered the gifts to a very appreciative volunteer staff on December 18.
The Singles Club participates in many varied social, cultural and community service activities throughout the year. We meet every Tuesday to "Mix and Mingle" at the Grill from 5:30 to 7:00 p.m. If you are interested in learning more about the club, stop by to see us there.