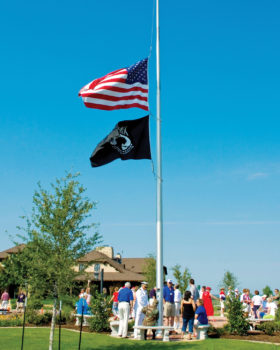 Charles Runner, Co-Chairman, Veterans Park
April has many historic dates related to those who served in the defense of America. On April 19, 241 years ago, the Minutemen began our nine-year fight for freedom at Concord, Lexington and the siege of Boston.
From April 1846 to February 1848, the U.S. military fought the Mexican War. The Civil War began at 4:30 a.m. on April 12, 1861 with the Confederate forces bombardment of Fort Sumter, South Carolina. The war ended on April 9, 1865 with General Lee's surrender at Appomattox Courthouse, VA.
The 111 day Spanish-American War began on April 25, 1898 and was fought in both the Atlantic and Pacific regions. On April 6, 1917 the U.S. declared war on Germany, bringing the U.S. into the "War to end all Wars." On April 9, 2003 U.S. forces captured Baghdad, Iraq and completed the invasion phase of the Iraq War 21 days later.
On Memorial Day, May 30, we will honor the men and women who have served the United States since the Revolutionary War. We will especially remember the 1,343,900 plus who have made the ultimate sacrifice, the 1,529,300 plus who were wounded and the 38,159 who remain missing in action. The Robson Ranch Veterans Park Ceremony will begin at 10:00 a.m. and last about 30 minutes.
If you wish to honor a veteran on a brick at the Veterans Park, bricks are available for a tax-deductible donation: 4×8 brick ($60), 8×8 brick ($110) and the 12×12 brick ($180). Brick order forms and a guidance document for the Tribute Book are available on the shelf below the Tribute Book in the Clubhouse. You may also request forms by email at [email protected] All orders must be received by May 2 to ensure the bricks are installed in the Park by Memorial Day.