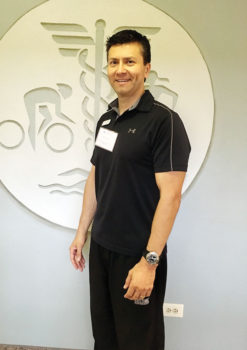 Shirley Waterhouse
Anyone that has been around Robson Ranch very long knows the magic Wally works with us. We are truly fortunate to have such a uniquely qualified and caring professional to work with us all. Wally's various accolades include licensed Massage Therapist, NASM – Certified Personal Trainer, The Cooper Institute – Biomechanics, The Cooper Institute – Corrective Exercises for Injury Prevention, TRX Qualified Level 1, Rock Steady Boxing for Parkinson's – Certified Coach, FMS – Functional Movement Systems Certified.
His title will be "Celebrating Everyday Movement". Wally states, "Hippocrates said 'Motion is Life,' and if that is true, then movement symbolizes life. We'll take a look at how we all started with fundamental movement patterns, and the importance of maintaining those movement patterns throughout our lives. We'll also review what happens when those movement patterns breakdown and what we can do to correct them. Ultimately, being able to maintain a certain level of fundamental movement throughout our lives is the key to enjoying life."
In addition to our inspiring Coach Sagui, Carol Watson, RN, ND will once again "edutain" us with another empowering topic on nutrition. Dr. Mike Waterhouse, retired Board Certified Family Practice Physician retired, will talk on "What Science says about causes of Colon Cancer".
Please join us on Sunday, May 20 from 6:00-7:30 p.m. in the Blue Bonnet Room of the CATC building. You will leave with knowledge and inspiration and be entertained while you gain it. See you there!