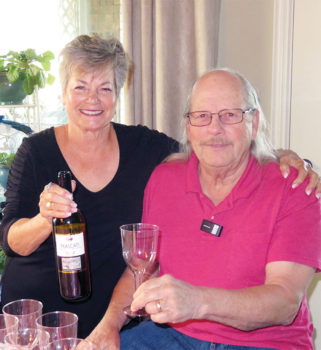 Theresa Peoples
Friday, April 20 the Wine Knots joined Bill and Theresa Peoples for a little bit of Italy! They tasted some of the regional wines from Italy, including Frascati, a savory, citrusy white wine that has been produced in Rome's countryside for thousands of years and was enjoyed by ancient Romans and Renaissance poets.
Then moving south to Tuscany, they next tasted Ruffino's Chianti Classico. This iconic Chianti is produced in the Galestro clay hills of Tuscany from the hardy Sangiovese grapes. Bill told the guests, Chianti goes best with pizza! And, finally, a taste of Prosecco Coneglian Valdobbiadene Superiore.
After bungling the Italian pronunciation of this cheerful, bubbly Prosecco from Venice, Theresa invited the Wine Knots to partake in her chicken manicotti with fresh green salad (greens from her own garden). The other additions brought to the table were warm garlic bread, fried zucchini and Italian sausage, bruschetto and rosemary bread.
Since the Prosecco is food-friendly and easy to drink, the Wine Knots decided their new motto would be "Wine Knots, Waste Not"! As usual, Vicki "the baker" baked another one of her wonderful desserts, a cannoli cake with a light mascarpone cheese and chocolate chip icing, which was enjoyed by all!
But, wait…there was still more. To top the evening off, we celebrated Barry Williams' birthday with raspberry white chocolate bundt cake and Blue Bell natural vanilla bean ice cream.
Whoa…Wine Knots, Waste Not!