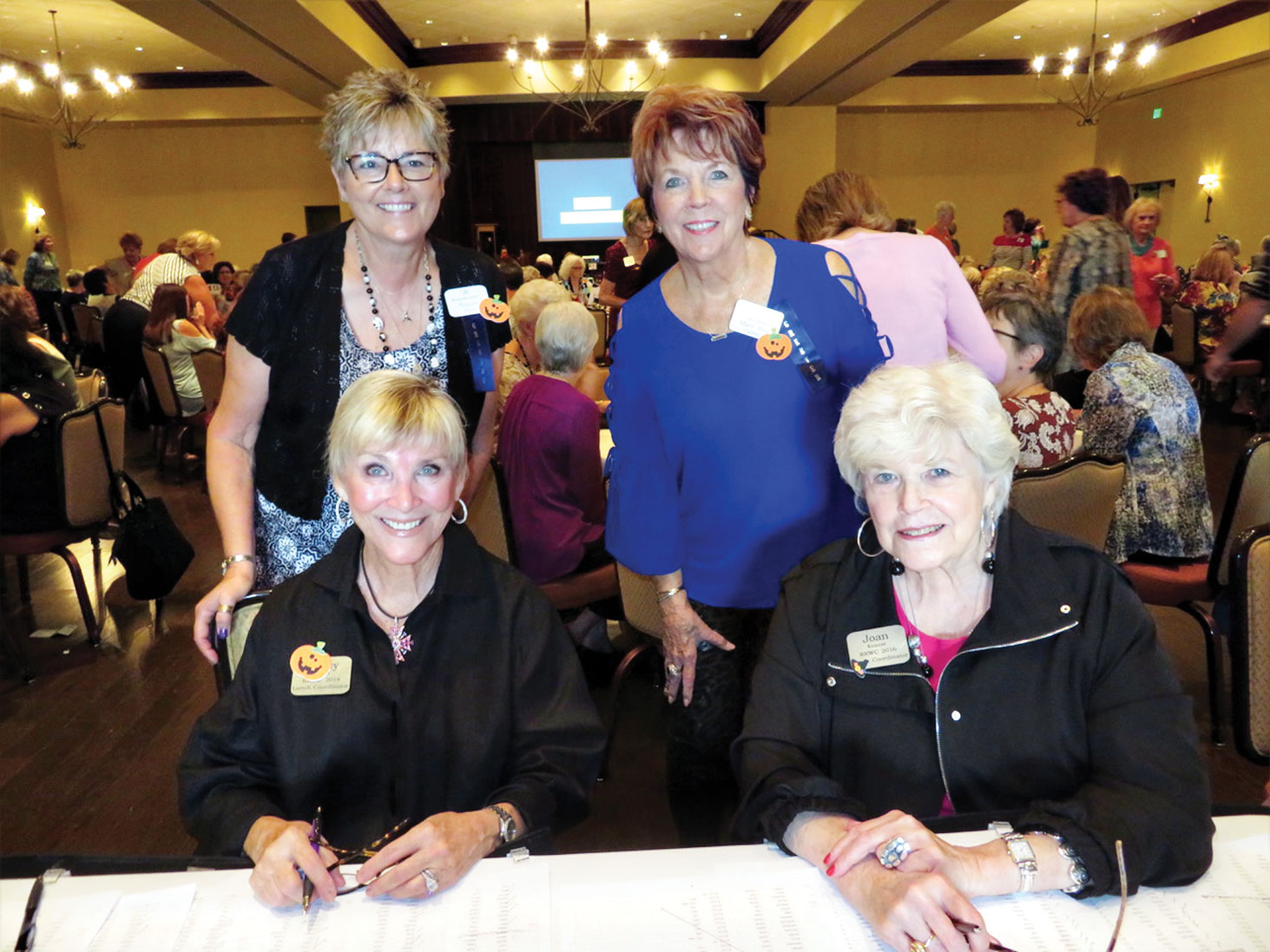 With oranges of every shade, and other fall colors, the October 1 Women's Club Lunch was a happy fall gathering. Guests shared the tables with skulls, pumpkins, ghosts, witches and other un-worldly images.
The business meeting was opened by President Mary Ornberg. President-Elect Joyce Frey interviewed new and first-time attendees while they shared where they were from, what street they live on and how long they've been at Robson. October birthday celebrants were honored with a heartfelt birthday serenade.
Committee updates showed the current membership at 534. Nancy Garre, Luncheon Chair, reviewed strict cutoff dates, and PayPal use and the Treasurer's report was given.
Service reported that Friends of the Family received $520 plus food.
The Nominating Committee Chair, Joyce Ambre, presented the nominating committee for 2019: Irene Wantuchowicz, Mo Fitzgerald, Robin Williams, Glenda Carr, Jan Utzman. They presented the following slate of officers for nomination:
President, Joyce Frey; president-elect, Gayle Coe; vice president membership, Cheryl Fischer; vice president programs, Rebecca Bafford; treasurer, Elma Hinson; secretary, Martha Butz; lunch coordinator, Kasey Miller; parliamentarian, Rose Depoe.
Hospitality greeters and table decorators were thanked. Sunshine provided means for sending a request card.
The Holiday Market on Saturday, October 13, the Pet Costume Contest on Saturday, October 20 and the Friday, November 16 Holiday Style show were reviewed. Special Projects Chair Sally Hampton, reported that there are currently four buses secured for the Dallas Arboretum on Thursday, November 29, with a few seats available.
Lunch followed with attendees dining on chicken piccata, angel hair pasta, Mediterranean pepper salad, bread sticks, and a decadent bread pudding dessert with whiskey sauce.
Seasonally wrapped raffle prizes were drawn for and won throughout the afternoon's program.
Program Chair Rebecca Bafford announced that the November program will feature Paula Esterline from the Decorating Den, who will present decorating ideas for the holidays.
Singer-impersonator Rhonda Medina entertained us as Marilyn Monroe. Clothed as Marilyn, walking among tables, singing in character, Rhonda presented a memorable medley of songs. She then shared her versatility by singing as Patsy Cline, Dolly Parton and Adele. Audience smiles and laughter at familiar songs showed an enjoyable time.