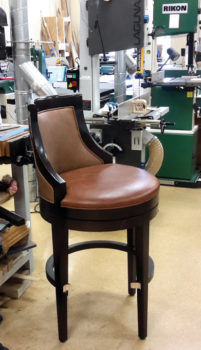 If you attended the Robson Ranch Craft Fair recently you might have noticed that we have a lot of very talented craftsmen in the Woodworking Club. If you have visited the Creative Arts Center then you may have seen evidence of that also. The sale of our wooden crafts is how we keep the wood shop open and provide a safe place for our members to ply their craft. While these are available at the annual Craft Fair they are also available year round. We do furniture repairs for the neighborhood and sell pieces out of the display cabinet outside the wood shop all of the time.
On occasion we also build special items for homeowners. We frequently have requests from our neighbors to build that "special" piece that they have not been able to find at the local furniture stores. Some examples of this are things like cutting boards, boxes, small benches, coffee tables and bookcases. While we will never be able to compete with Ikea on price, the items we make are made of solid hardwood and crafted by hand.
If you have a project in mind, come talk to us. If you think you might want to build it yourself, come join us. There is a wealth of talent, and most everyone is willing to help you learn if you are interested. If not, someone will likely be willing to build it for you.