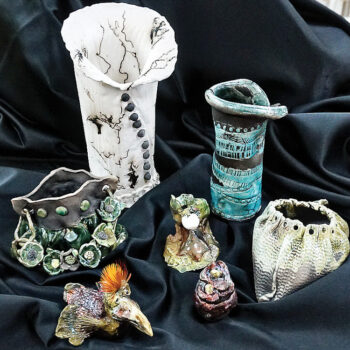 If you are starting to think about the holidays, here's a place to go to for ideas. The Robson Ranch Women's Club will be sponsoring the Holiday Market from 9 a.m. to 3 p.m., Oct. 23, in the Clubhouse. This recurring event draws an amazing number of attendees. In the past, more than 1,000 people have come to see the more than 50 vendors who bring creative products to stimulate our imagination as we look forward to the holiday season.
The types of products you will see are amazing. There will be clothing from vendors like Le Fashion Coach; jewelry from Avanell Patton Designs and Nantucket Pearls; a variety of art from Francesca's Paintings, American Metal Art, and Lucky Hooves Art. Two of the resident clubs and long-time participants in the Holiday Market—the Woodworkers and the Happy Potters—will be selling some of their lovely creations and using those funds to support future activities of their clubs. Please check the Robson Ranch Women's Club website for a list of all of the vendors who will have booths at the Holiday Market at www.rrwomensclub.org.
The vendor fees for this event will be donated to Our Daily Bread Together with Monsignor King Outreach Center. There will also be a raffle for a gorgeous holiday wreath donated by Decorator Warehouse, and those proceeds will also be donated to the charity. Tickets for the raffle will be available for purchase at the October Women's Club luncheon. The raffle tickets are $5 each or five for $20. You can also purchase tickets for this event in the Clubhouse from 9 to 11 a.m. on Oct. 11, 13, and 15. Be sure and put the Holiday Market, Oct. 23, on your calendar.