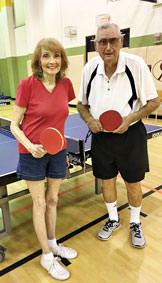 Don Pooley
August begins the "Arlene Pfeil and Jim Gregg Doubles Tournament" that honors two of our Robson Ranch Table Tennis Club's founding members. The doubles tournament, with an anticipated 10+ teams, is playing matches each Monday during the club's normal play time (noon–2:30 p.m.). The tournament began August 12 and is expected to end mid-October. Teams were randomly chosen by "lucky draw". Come out and cheer your favorite team to victory on each Monday.
Don't forget to drop by one of the club's play sessions (Monday, Wednesday and Friday from noon to 2:30 p.m. and Sunday 10:00 a.m. to noon) and an experienced club player will be happy to help you meet other players and get you started playing table tennis on a regular basis.
News Flash: A single club membership for the remainder of 2019 is now reduced by 50%.