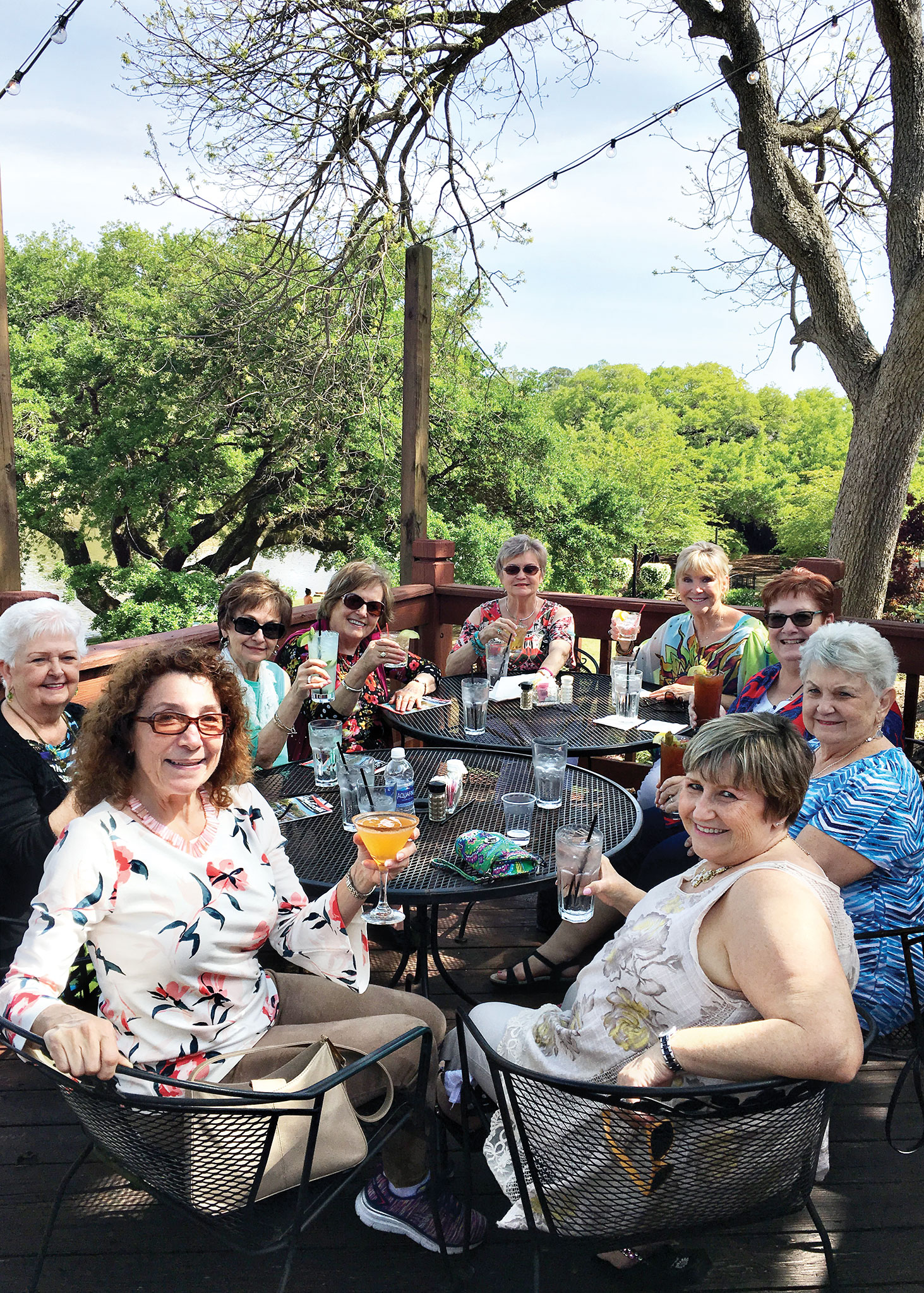 Gayle Coe
It was time to hit the road! We (Judy Ondina, Sally Baggott, Peggy Crandell, Margaretha Kortschak, Sharon Foy, Nancy Garre, Gayle Coe, Jan Utzman and Carol Cieslik) left the beautiful Robson Ranch Bluebonnets and headed east to Natchitoches (Nack-a-tish), Louisiana in anticipation of the three-day adventure, complete with southern charm, New Orleans style French architecture, hospitality and a chance to see the home of Steel Magnolias, plantations and the beautiful Cane River.
The first stop was lunch in Marshall, TX at the Central Perk Café in the Weismann Center. This historic mercantile offers unique items and one-of-a-kind finds. After a delightful lunch, it was back in the car and headed to Natchitoches. Upon arrival, we checked into the lovely Chateau St. Denis hotel.
By the time we checked in and set up our "hospitality suite", it was time for cocktails and dinner at the historic dining district restaurant, Maglieaux's on the Cane. As we dined on delicious Creole cuisine, we had the pleasure of speaking with the chef. He graciously shared a few Creole cuisine secrets with us while visiting the table. Then it was back to the hospitality suite to plan more shopping, dining and sightseeing.
The next day, we set out to explore the charming qualities of Natchitoches' 300-year-old community and its friendly residents while we discovered wonderful boutiques and great stores. We had a gracious scouting party, which consisted of Peggy Crandell, Jan Utzman, Carol Cieslik and Judy Ondina, who shopped and shared their Front Street boutique-critiques so we could expeditiously partake in the one-of-a-kind boutique excursions.
Then it was time for lunch at Lasyone's Meat Pie Kitchen, home of the famous Lasyone's Meat Pie. We dined on delicious meat pies as we planned more sight-seeing. After lunch, we strolled along the downtown riverfront area, in the historic landmark district, on the Cane River. We also mapped out the sites where the movie, Steel Magnolias, were filmed. As the sun set, we found ourselves back at Maglieaux's dining al fresco under the majestic oak trees, along the Cane River, as we planned the next day's adventures.
The last day, we checked out of our hotel and headed to the Melrose Plantation before we started home. This gorgeous plantation is part of the Cane River Creole National Historical Park and offers docent-led tours for a detailed account of daily life at this plantation. It also houses several original works by Louisiana's most famous folk artist, Clementine Hunter. You can see some of her original paintings, which she painted on the barn walls, while listening to details about her life at the plantation. After the tour we agreed, a wonderful time was had by all in Natchitoches, LA!