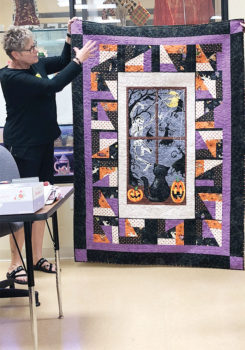 Sandi Price
It's bad enough that Robson's Material Girls visit every quilt shop within a 50-mile radius frequently on their own. But now they've made the big time; a quilt shop sent a bus from two hours away to make sure the girls spend their quilting money (and probably grocery money too) in Mineola, Texas.
It's amazing that a town the size of Mineola (less than 5,000 people) can support a quilt store the size of Stitchin' Heaven. That is, until you discover they obviously have a marketing genius who sends a bus all over Texas to "rope 'em in". Plus, they also conduct Quilting Cruises several times a year. Both venues are usually sold out.
The Material Girls were treated to a comfy bus trip, lunch, free wine, demos, games and the opportunity to buy out the store. Did I mention free wine? One of the demos was a Scrap Crazy 8 quilt, complete with templates and made with a pack of 10" squares called a "Layer Cake". It obviously tickled a number of fancies because they just about cleaned out the shop's premade packets. Nancy Myers used her Scrap Crazy 8 blocks around a Halloween panel. Is it any wonder they all went crazy for this quilt pattern? Ruth Loyd went for their appliqued Quilt Squad quilt kit; time consuming, but well worth the effort.
And then there were the games. Marguerite Rose won…again.