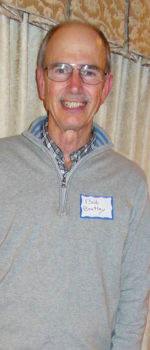 Irene Manning
Robson Ranch Catholic Club met on Tuesday, February 13 at the home of Deacon Jim and Susan Galbraith. The meeting is always opened with a prayer and prayers are said for those in most need.
Our guest speaker was Mr. Bob Bentley. Mr. Bentley is an accountant by trade, but spent many years as a missionary in Africa. He spent eight years in Nairobi, Kenya and eight years in Tanzania. His main focus was on digging water wells to supply clean fresh water to the population. Mr. Bentley had raised twenty thousand dollars for this project. They dug six shallow water wells for the twenty thousand which are a lot less expensive to dig. The local people had to go through sanitation training and the local government helped to plant trees around the well areas. Mr Bentley and his family had to deal with different illnesses such as malaria and other exotic illnesses that are exclusive to the area. Mr. Bentley and his family also shared their Christian faith while living there. Mr. Bentley still travels to Africa about once a year. All the members got a great deal from Mr. Bentley's presentation.
The meeting ended with refreshments, fellowship and a very informative evening.