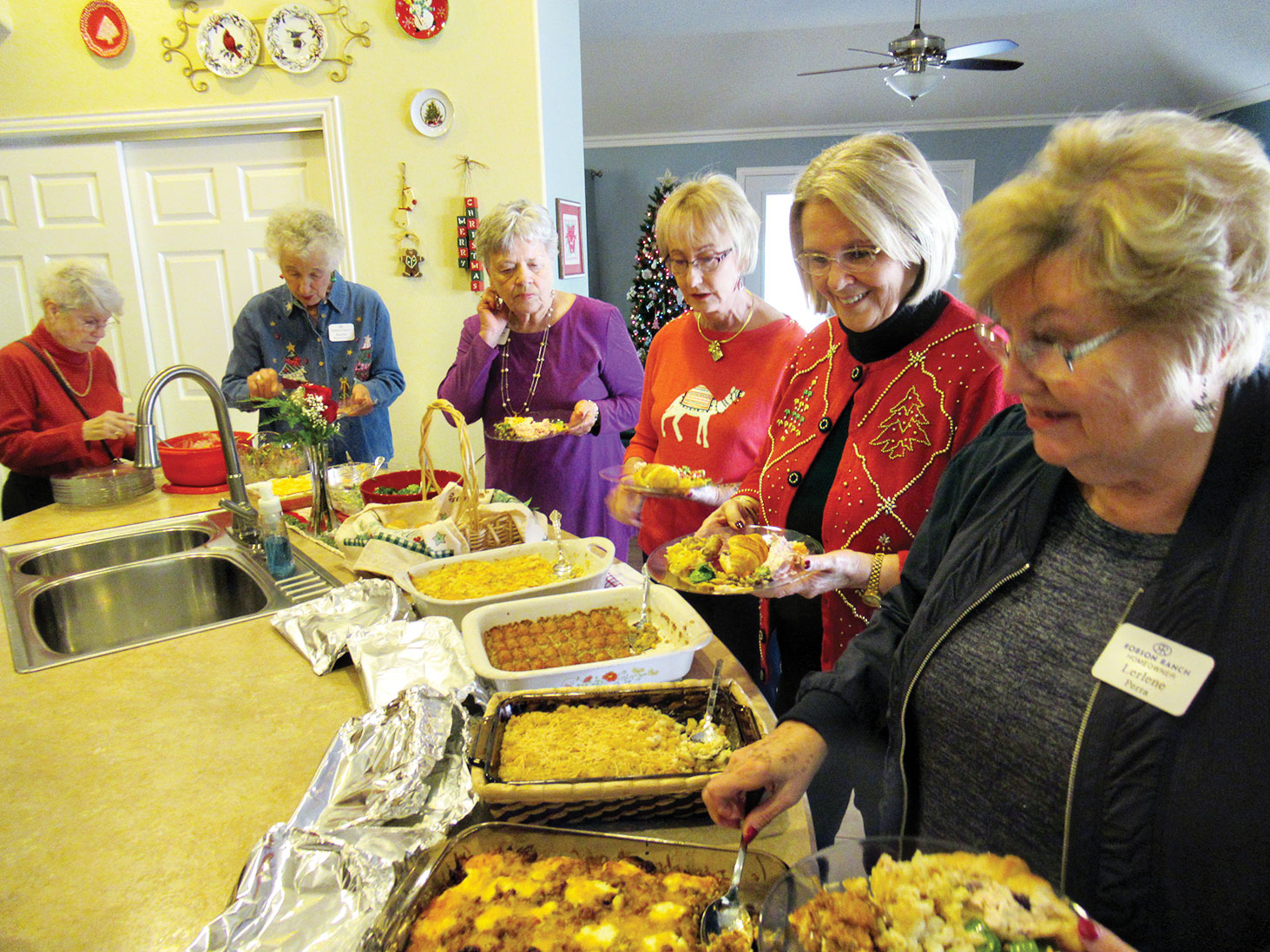 Sherry Zeise
The festive, sweet spirit of Christmas captured all of us as New Life Ladies Lunch Bunch entered the charming home of Lyle and Nancy Nevius on December 9. The guys gathered for their Lunch Bunch at Outlaw Burger in Justin.
Tables sported happy snowmen, angels and pretty Christmas patterns. Every room engulfed us in glorious, happy Christmas spirit.
Casseroles and their unique textures took center stage this time, while veggies, veggie and/or Jell-O salads had strong supporting roles. You know the desserts though; they always try to steal the show. What good cooks! How scrumptious the meal!
Jois Ross, our dear director, as always welcomed us to our annual Christmas Sing-in. Jois, along with faithful, sharp assistants Ruth Klein and Peggy Zilinsky, presented our Christmas program accompanied beautifully by Judy Fairchild. As Jois often says, "We will move seamlessly through the program," so they did. As one finished, the other continued on, and then the other slipped in as though only one were speaking yet each giving the text her unique emphasis. The effect was more greatly supported as Judy filled the room with deeply moving keyboard tones. Each of us had our songbooks with a wonderful cover designed and handmade by Leslie Brooks, and we followed the three as they led us song to song by sharing historical backgrounds, testimonials of those inspired to write or compose the songs, and Scriptures declaring the actual account of the promises and the fulfillment of the birth of Jesus our Savior.
Nancy Thomas touched our hearts as she read Psalm 8, "O Lord, our Lord, how majestic is Your name in all the earth…" as Judy Fairchild played How Great Thou Art written as a result of the Psalm's inspiration.
We sang with joyous gusto carols, hymns and gospel songs which proclaimed the events and effects of our Savior's birth. We heard the story of the "Christmas Truce" during WWI when soldiers in foxholes on one side on Christmas Eve began singing Silent Night. The other side heard and joined in the song. The fighting ceased, and there was a treasured moment of "peace on earth." As we joined each other singing Silent Night, the beauty, truth and love revealed in it brought many to tears.
It was beautifully scripted, thoroughly enjoyed, wonderful tribute, which honored our Lord's birth and His promise to us. "For unto us a child is born. Unto us a Son is given." Isaiah 9:6
"Thanks be unto God for His incredible Gift." II Corinthians 9:15