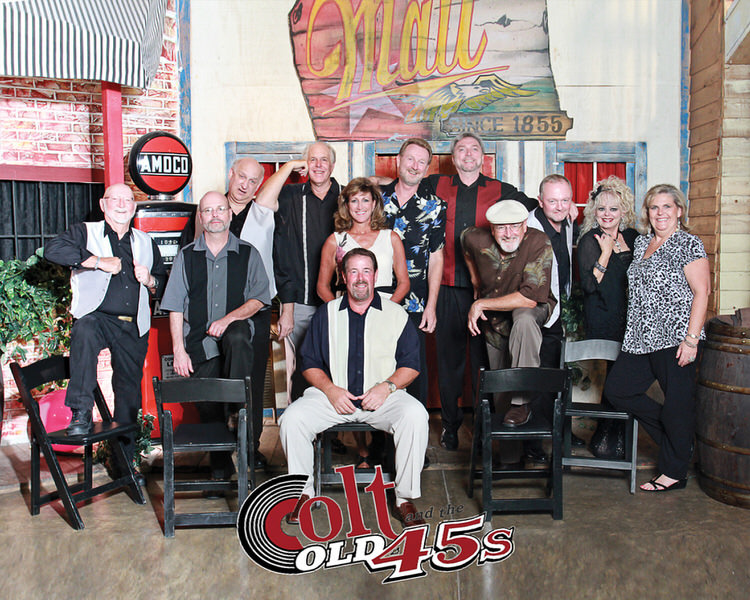 Join us for the Colt and the Old 45s concerts on July 22 and 23, in the clubhouse ballroom. Doors open at 7 p.m., and the concerts start at 7:30 p.m. Tickets are $26 per person.
Initially, this group was a three-member band in 2007. Colt and the Old 45s quickly grew to an 11-member band in less than 12 months. Impressing and entertaining audiences with their rock 'n' roll covers from the late 50s, 60s, and early 70s, as well as some of their own well-received original compositions, Colt and the Old 45s is comprised of as talented an ensemble of musicians and singers as you will ever see and hear.
From their lead male vocalist with a five-octave range, to their very seasoned and talented guitarists and bass player, to their extremely entertaining and gifted keyboardist, accomplished drummer, hearty and rock-solid horn section, to their enormously talented female vocalist, this band offers decades of experience and is sure to leave you wanting more.
With a playlist that spans 25 years of the most recognizable music, you will hear songs from such original artists as Roy Orbison, Del Shannon, the Righteous Brothers, The Four Seasons, Tina Turner, Lou Christie, Chicago, Jerry Lee Lewis, and more—songs that will certainly rekindle memories for those who grew up listening to them, and for those younger concert goers, songs that promise to be those they will recognize and enjoy as well.
You can reserve your tickets on the HOA website starting at 9 a.m. on June 27. Under the Activities tab is the Tickets tab. There will be two dates to choose from: Friday, July 22, or Saturday, July 23. Please make sure you check the date before reserving. A confirmation will be sent with information as to when and where to pick up and purchase tickets. Both dates will have open theater seating and some tables. Tables can only be reserved for parties of 10 people.